Mansfield Town: Chairman John Radford appeals for new investor
Last updated on .From the section Football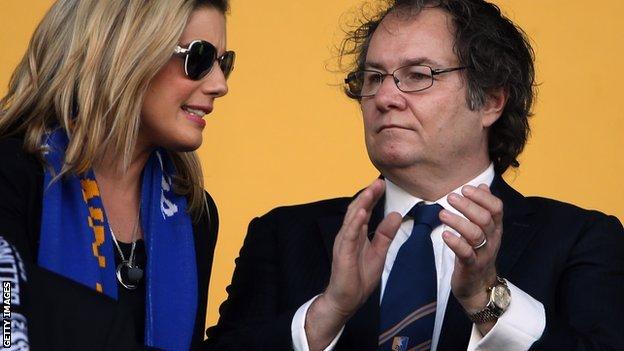 Mansfield Town chairman John Radford has appealed for new investment in the club to help "share the burden".
Radford confirmed that his continued financial support of the Stags will now come from his personal wealth and not his company One Call insurance.
As a result, loans to the football club have been reduced from £100,000 to £34,000 per month.
"It would now be helpful for a fellow investor to come on board to help share the burden," he told the club website.
"I've had to cut my cloth accordingly. The club's finances are okay at the moment. Wages and bills are being paid as normal.
"I thank my fellow directors Steve Middleton and Andy Sutton for their support, and we could do with another new face on the board, who also has the club's best interests at heart."
Last week Mansfield revealed they could not afford to sign players before transfer deadline day because of legal action against them by ex-shareholders and directors Andy Saunders and Steve Hymas.
Manager Paul Cox has since told BBC Radio Nottingham there "could be scope" to sign players on loan, but Radford said the League Two club's most pressing issue would be to lift attendances to an average of 4,500 in order to break even.
They have averaged 3,400 at Field Mill so far this season.
"What we need more than anything though, is for people to come through the gates on a home match day. It doesn't help when people are staying away," Radford added.
"I feel I have done my part by rescuing the club from its knees over three years ago, putting the stadium back into the club's hands and financing the club to help us achieve promotion after five years in non-league."