Birmingham City hope for fresh capital after Carson Yeung exit
Last updated on .From the section Birmingham
Birmingham City's acting chairman Peter Pannu claims that the club face a "bright" future after shareholders agreed a plan to raise new investment.
"The group has been suspended from trading for some time now," said Pannu.
"I would envisage the resumption of trading to enable us to raise capital."
At a specially-convened EGM at the Shangri-La Hotel in Hong Kong on Wednesday, Pannu, chief executive of Blues' parent company, Birmingham International Holdings Limited (BIHL), said: "We expect that to happen shortly.
"This is a milestone in terms of what the group has achieved.
"The first one will raise about 60 million (Hong Kong dollars, around £4.5m). The second one about 100 million (Hong Kong dollars, around £7.9m)," he told BBC News.
Despite severing his official ties with St Andrew's, Yeung remains the club's majority shareholder. But the BBC has reported that, following Tuesday's EGM, Blues will no longer have to repay a £15m loan due to their former club chairman.
Hong Kong businessman Yeung, 53, who has owned City since 2009, is currently awaiting the verdict, due on 28 February, of a money-laundering trial in Hong Kong, an offence he denies.
Blues' future has, effectively, been on hold since Yeung first appeared in court in June 2011 - just a month after the club's relegation from the Premier League was confirmed.
Trading in the company's shares was suspended following Yeung's arrest. But over the past three seasons, Blues have still managed to make light of their off-field problems, reaching the Championship play-offs under Chris Hughton in 2012, finishing safely in mid-table under Lee Clark last term and remaining clear of trouble this season.
There has been talk of takeover bids for almost two years now, while Clark has had his hands severely tied in the transfer market.
And gates have fallen at St Andrew's as Blues fans, disillusioned by the club's apparent lack of forward progress, have temporarily turned their backs - a key factor in Blues having not won a home league game in four months.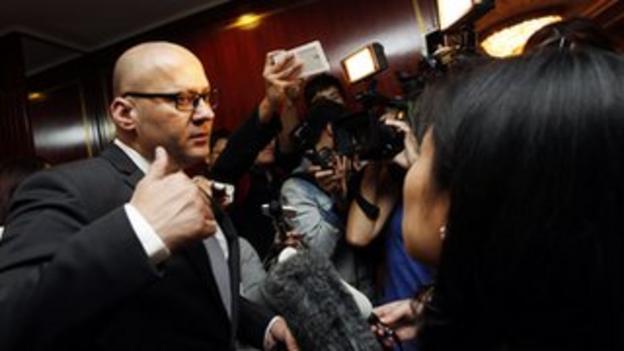 Blues have fallen from being the 10th-best supported club in the Championship two seasons ago to the 15th this time round. Their average attendance for home Championship gates has dropped by more than 20%, over 4,000 a game.
But, when asked about 'all the troubles that the club have faced over the last few years' when he faced the press after Wednesday's meeting, Pannu said: "What troubles?"
Asked whether the fact that Blues are 'in the red' worried him and if he thinks the situation can be turned around, Pannu added: "95% of all clubs in England are in the red.
"Manchester United, if you check their books, they are indebted to the tune of £350m.
"Tell me one club that makes money, except maybe Arsenal and West Bromwich. It's no big deal."
Having been joined on the board at St Andrew's, which still includes Yeung's son Ryan, on Monday by two new directors, BIHL vice-chairman Ma Shui Cheong and Greek finance specialist Panos Pavlakis, Pannu insists that the club can now look forward again.
"We will work hard to sustain the club," he added. "As we have been doing for the past two or three years.
"This is a business which is a springboard for other businesses.
"If we resume, we will have capital. We will support the club.
"The new chairman [of BIHL, Ma] will take over now. He is a very experienced person and he will lead the whole group, including the club towards the right direction, and brighter direction."
Pannu also added that Blues remain a target for potential buyers.
"We have interested parties coming to talk to us about the club," he said. " If something substantive comes forward, we will announce that."