Brighton & Hove Albion announce £14.7m loss for 2012-13
Last updated on .From the section Football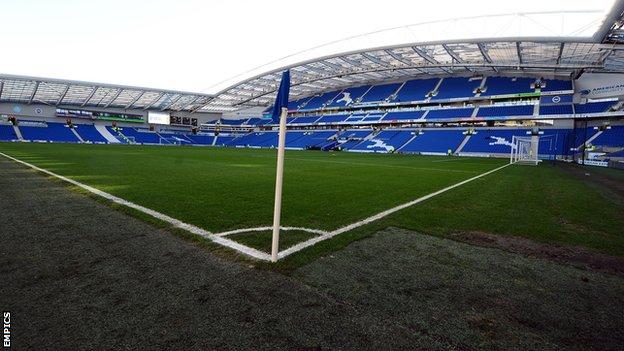 Brighton & Hove Albion have announced a financial loss of £14.7m in their accounts for the 2012-13 season.
The club's operating loss from the previous campaign was £8.6m.
New signings and a larger wage bill meant the club's "footballing costs" rose from £14.8m to £20.9m as Brighton came close to promotion.
"This shows the reality of football in the Championship and demonstrates the very high cost of being competitive," said chief executive Paul Barber.
Brighton finished fourth in the Championship table last season, losing in the play-off semi-finals to Crystal Palace.
In what was their second season playing at the Amex Stadium, the Sussex club recorded the highest average attendance in the Football League and saw turnover grow by more than £1m to £23.3m.
Income from ticketing, commercial and retail increased but administrative and operational costs rose to £17.2m.
The club says "a number of one-off exceptional costs", including a staff redundancy programme, have been made in preparation for when Financial Fair Play (FFP) sanctions are imposed by the Football League.
"We continued to grow the revenues we can control but, in order to compete at the top end of the Championship, we had to once again rely on another considerable investment from our chairman Tony Bloom," Barber added.
"Not only has Tony provided interest-free funding to build the Amex Stadium and the new training ground project, he has also covered the club's losses to date and is committed to funding future losses.
"The board's short-term ambition remains to see the club promoted to, and established within, the top level of English football."
Under FFP rules, clubs making a loss of more than £8m this season will be subject to sanctions by the Football League, which include possible fines or a transfer embargo.
Last year Barber said the club were taking the rules seriously, while in September the club's head of football operations David Burke told BBC Sussex they hope clubs who do not comply with the rules are penalised.
"We simply cannot sit back and rely on Tony's continued generosity alone," Barber said.
"The new rules do not allow this, even if it was something Tony was prepared to do.
"As a club we remain committed to the Financial Fair Play philosophy.
"The challenge for all of us is to continue to ensure the club is as efficient as possible, while continuing to grow our income streams.
"With regard to the FFP landscape, it is still new territory for all clubs and there has been much talk at both Premier League and Championship level about what other clubs are doing and whether they will comply.
"We remain absolutely committed to a long-term strategy which ensures our future financial sustainability, so, whilst it may not be a perfect system, we continue to agree with the principle of FFP."