Adel Taarabt compares himself to Mario Balotelli at AC Milan
Last updated on .From the section European Football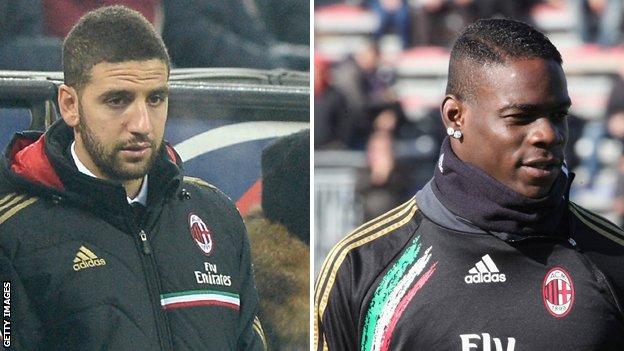 Adel Taarabt has described himself as the "Balotelli of Morocco" after joining former Manchester City striker Mario Balotelli at AC Milan.
The 24-year-old midfielder, who spent the first half of the campaign at Fulham, is on loan with the Rossoneri from QPR until the end of the season.
"I thought 'they've got the Italian Balotelli and now they're going to have the Balotelli of Morocco'," he said.
"I can't wait to get to know Balotelli better and to become his friend."
Taarabt has scored seven goals in 79 Premier League appearances, compared to Balotelli's record of 20 in 54 top-flight games during his time at Etihad Stadium.
However, like 23-year-old Balotelli, he has had several high-profile disagreements with managers.
After being substituted at half-time when QPR were 3-0 down away to Fulham in October 2011, Taarabt left the ground early as his side slid to a 6-0 defeat.
He retired from international football in June 2011 after a disagreement with then-Morocco coach Eric Gerets. before reversing his decision four months later.
But Taarabt denies that he will cause any problems for Clarence Seedorf, who is only a few weeks into his first coaching job after taking on the AC Milan role in January.
"I haven't got a difficult character. Perhaps some find it hard to accept direct and sincere people," said Taarabt.
"I'm really the complete opposite. I like to joke and this can be misinterpreted."
Taarabt could make his debut for Milan, who are 10th in Serie A, in their away match against Napoli on Saturday.