Leeds United: Flowers pulls out to leave Cellino nearer takeover
Last updated on .From the section Leeds United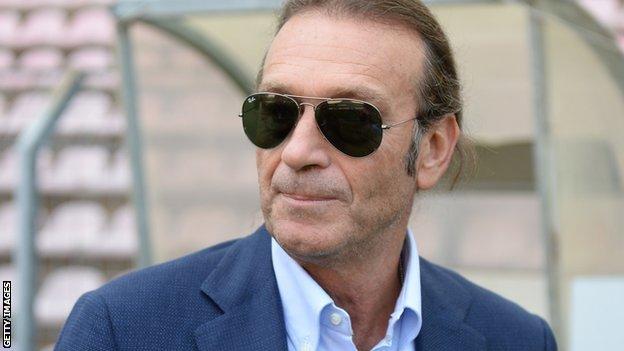 Andrew Flowers has pulled out of the bidding to buy Leeds United, leaving Massimo Cellino closer to taking over.
Their bid, which also involved the club's current managing director David Haigh, collapsed last Thursday.
Cagliari owner Cellino's deal with owners GFH for a 75% in the club is awaiting Football League approval.
It had been understood that members of the Sport Capital consortium and those involved in the Together Leeds consortium were planning to launch a joint bid to take over at Elland Road.
However, it now appears that has not come to fruition.
In a statement, Flowers said: "I entered discussions in good faith to buy this club for the simple reason that I am a lifelong supporter and sincerely believed that I could make a real contribution towards the goal of promotion to the Premier League and at the same time provide the stability and sound financial governance the club desperately needs.
"However, the emergence of Mr Cellino's bid, and the nature of the transaction, seems to have crystallised the attitudes of both GFH and the Leeds United board, enabling them to dispose of the club with no consideration for its ultimate security and wellbeing.
"In effect, it is a 'fire sale' transaction which is not in the interests of Leeds United, its players, staff or loyal supporters.
"Both myself and my company, Enterprise Insurance, have been enormous financial supporters of the club for the last few years and while we may understand the commercial expediency which leads the owners to accept the superficially attractive Cellino offer, we remain firmly convinced this deal will not give the club the stability or investor commitment it badly needs."
Together Leeds, a consortium led by former Manchester United commercial chief Mike Farnan, released a statement late on Wednesday saying they were still in the running to buy the club.
"We remain committed to delivering a fully-funded, sustainable, long-term plan, to rebuild Leeds United and restore it to its rightful place in English football," it read.
"We have reached out to GFH with every intention of demonstrating that this is a bid backed by credible Leeds, Yorkshire and footballing people that offers them an acceptable solution and the club and its supporters a dynamic future.
"In the best interests of Leeds United, our offer of constructive dialogue will remain open. We now await GFH's response and will look forward to finding a constructive, embracing solution to ensure that the distractions of this prolonged uncertainty can be put behind the club and the focus return to football."
Leeds currently lie 11th in the Championship, eight points off a promotion play-off place.