Swansea City and Cardiff City share tale after Laudrup sacking

By Rob Phillips
BBC Wales football correspondent
Last updated on .From the section Football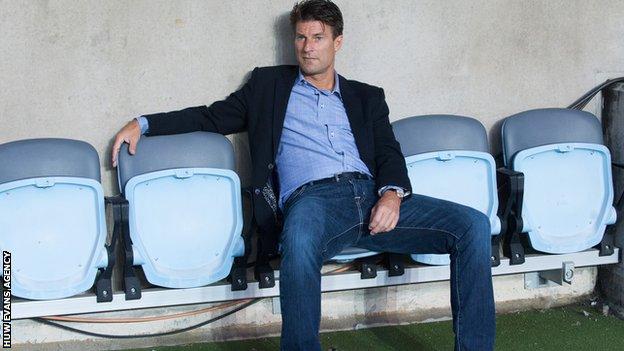 BBC Wales football correspondent Rob Phillips assesses the recent upheavals at Swansea City and Cardiff City ahead of the most important South Wales derby in living memory.
Always wondered how long Wales could glory in two European Cup winners at the helm of their Premier League clubs?
Not long, as it turned out. Now there is just one - Ole Gunnar Solskjaer, who recently succeeded Malky Mackay at Cardiff City.
Yet this is not the way it was supposed to be.
A stand-off between manager and owners? A familiar tale - down the road at Cardiff City.
Decision makers running out of patience? It happened - down the road at Cardiff City.
The departure of a manager surprising the football world at large? They still wonder at recent events - down the road at Cardiff City.
Swansea City have taken the limelight from their bitter rivals with the sacking of Michael Laudrup.
All this in the build-up to the most important South Wales derby in living memory.
I am not sure the Swans will enjoy their time in the spotlight. But then they are not used to sacking managers. It's 10 years since they last issued marching orders - to Brian Flynn. That's an extraordinary achievement these days.
In other words, something must have been amiss. Less than a year ago Laudrup was being rightly hailed after leading the Swans to their first major domestic silverware with the Wembley victory over Bradford City in the Capital One Cup Final.
A highest ever ninth-placed finish in the Premier League last term was reason to celebrate, too. Any internal discontent submerged in the bubble of success and the anticipation of a Europa League adventure.
Yet barely had the cheers died down when rumblings over the alleged influence of Laudrup's agent Bayram Tutumlu exploded. The club severed all ties with the man who has helped steer the Dane's career for more than 20 years.
We wondered then whether Laudrup would walk. But he dismissed all talk of going, instead embarked on what for him has been yet another fateful second season where he was unable to live up to his first campaign
Despite success in the Europa League, this term has been a struggle for fans and players.
As neighbours Cardiff City toiled with well-publicised top-level upheaval in their first Premier League season, the Swans' deteriorating form almost went under the radar. Going into the derby they have recorded just four league home wins since their Wembley triumph.
They have managed 36 points from 38 Premier League in the last calendar year. The eye-pleasing, well-honed passing machine has looked laboured and predictable.
They appeared to lack intensity and even passion. Undoubted competitors like captain Ashley Williams has sometimes cut an annoyed, frustrated figure trying to lift a team which has seemed short on collective heart and character.
The Swans' accumulation of match winners like Wilfried Bony has helped them stay out of the bottom three. But the decline has been palpable, even though Laudrup tried to implore a reality check after last season's startling exploits.
Basically fans have seen a side which too often lacked the ''Swans spirit'' - that intangible quality which bolstered their undoubted individual skill.
Throughout, Laudrup remained cool and calm, too calm for some supporters. His laconic manner was ideal for coping with the publicity surrounding the recent training ground bust up between Garry Monk and Chico Flores. It was smoothed over, but added fuel to the fire of those who felt the squad had become fractured.
Some fans wanted Laudrup to be more animated on the touchline, though that was never his style.
More questions were asked when Laudrup admitted he knew little about deadline day loan signing - and former player - Marvin Emnes.
Ironically, it seems Laudrup did not walk, as you might have expected, when chairman Huw Jenkins first suggested Swans stalwart Monk be part of the coaching staff.
But it seems Jenkins then decided to put what his statement called ''uncertainty'' behind them and Laudrup had to go. The departure is not a surprise. The timing, just before the derby, is.
Jenkins has an exemplary record in appointing managers to develop and improve on what has gone before. He will hope Monk follows in the footsteps of Roberto Martinez, Paulo Sousa, Brendan Rogers and, yes, Laudrup to take the club on another step.
Laudrup provided some unforgettable memories and rightly deserves a cherished place in Swans history, though look at his track record as a manager and his stay was never going to become a prolonged reign.
His exit means Swansea City are again similar to the rivals they meet again this weekend.
Like the Bluebirds, the Swans have gambled on an inexperienced boss to steer them out of choppy waters towards Premier League survival.