Southampton: Francis Benali delighted by lifting of St Mary's ban
Last updated on .From the section Southampton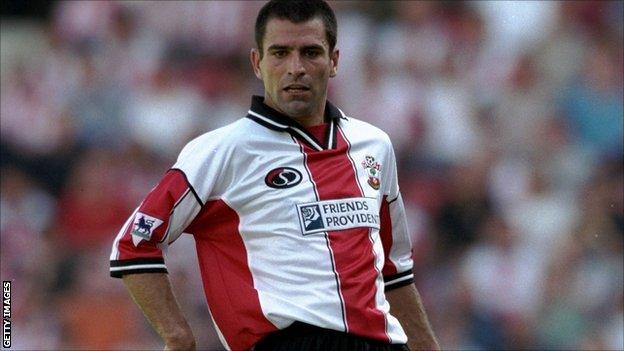 Former Southampton defender Francis Benali has expressed delight at the lifting of his two-and-a-half year ban from the St Mary's Stadium.
Last year, he brought a civil claim against the club in a property dispute.
The ban had been imposed by former chairman Nicola Cortese, but owner Katharina Liebherr recently lifted it.
"The management of the club at that level has changed, so I am more than happy to go back and be in attendance," Benali told BBC Radio Solent.
The former left-back, who made 371 appearances for the club, had been at odds with Cortese since 2009 after agreeing to rent out his house to the club.
He was eventually told he could not attend matches and functions at the stadium and it led to him lodging a claim for about £50,000, but the issue was eventually settled out of court.
Following Cortese's resignation, Liebherr has been keen to improve the club's relationship with ex-players such as Benali, who returned to watch the FA Cup win over Yeovil last month, and Matthew Le Tissier, who had criticised the way his former team-mate had been treated.
"It was nice to be back in the stands cheering the boys on. I've always been supporting the guys, that goes without saying, but it was more from a distance," said Benali.
The 45-year-old's passion for the club never diminished during the legal stand-off.
"It is something that is running through my blood and is a big part of my life and that will never change.
"I was not going to to attend matches but results were always at the forefront of my mind. To see the club climb the divisions was incredible and I was just as proud as everybody else when the club was successful."
Benali said he was "saddened" at the way he and Le Tissier, a regular critic of Cortese's regime, had been ostracised by the club.
"It's a real shame," he added. "I took a stand, Matt is a close friend and knowing him as I do it was not something we wanted to do or ever dreamed we would be in a position to do.
"The club is in our hearts, it's been a huge part of our lives and we want to be supportive of the club at any opportunity.
"When you are kept at arms length it is a sad situation and one we thought we'd never find ourselves in."