Swansea City: Garry Monk wants manager's job permanently
Last updated on .From the section Swansea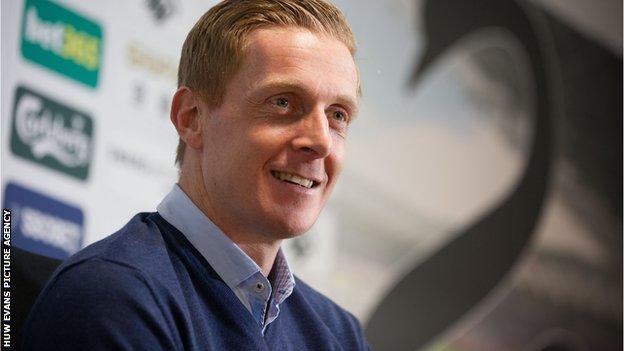 Swansea caretaker boss Garry Monk wants the job on a long-term basis.
"As an ultimate aim, it would always be great to manage this club," said Monk, whoses first game is a Premier League derby with Cardiff City on Saturday.
"It would be one of the proudest things I could ever do. "It's not the way I thought it would happen, but it's happened and I could not be prouder."
Monk admitted it had been a shock to be asked to become caretaker manager.
"I had no inkling," he said. "I was just told to be ready to prepare the team and of course this is my club.
"I'll do anything for the club. I have said that ever since I've been here."
Monk, 34, refused to criticise Laudrup's style, which had come in for scrutiny after the Swans registered only one win in their last 10 games.
Since being dismissed, the Dane has said he is considering taking legal action.
Laudrup's last game was a disappointing 2-0 defeat at West Ham last Saturday which left the Swans in 12th place, only two points off the relegation places.
It was their sixth defeat in eight Premier League outings.
"I'm not going to sit here and start talking about what he [Laudrup] did here and there," insisted Monk, who has made 270 appearances for the club. "That's not my concern.
"At the end of the day, that is kept in-house. I have to prepare the team."
Monk, who has been at the club since 2004 and was club captain before Laudrup's exit, said he is ready to manage the club and be his own man.
"I'm not trying to be anyone else," he said.
"I know everything about the club and the players. I'm not trying to follow anyone, I'm just going to be myself.
"All I care about is the club. I know the club, I know the players. We have lost managers before I have been in this situation as a player.
"So we have dealt with that and know how to move on from that. That's the industry we are in."
On the clash with Cardiff, Monk said: "It doesn't come much harder than a derby. It's massive. With the week we've had it makes it even bigger."