Guernsey FC: Tony Vance says early desperation proved costly
Last updated on .From the section Football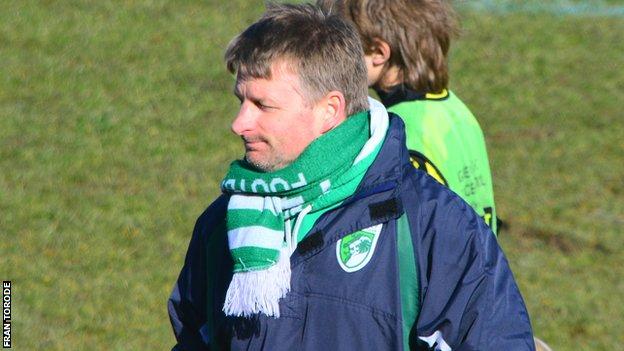 Guernsey FC boss Tony Vance says desperation cost his side victory in Wednesday's 1-1 draw against Sittingbourne.
The Ryman South League game was delayed by 45 minutes with weather conditions delaying Sittingbourne's arrival.
Kieran Mahon poked home a second-half equaliser for the hosts after Sam Hallett put the visitors ahead.
"We got too desperate and they got themselves a breakaway goal," Vance told BBC Radio Guernsey.
"You can't use it [the delayed kick-off] as an excuse because their preparation was worse than ours and they got what they came for.
"No one can deny that we deserved something from the game and it should have been three points, but we couldn't get the second goal.
"In the first half, with the wind, we started strong - in that first 15 minutes they were putting bodies on the line and everything was hitting them. Everything was going their way, and deservedly so."
Vance said wild conditions at Footes Lane, which ended in gale force winds, demanded a change of tactics after the break.
"We train in these conditions, so are kind of used to it," said Vance.
"It was important that we set ourselves up in the second half a certain way so we could play diagonal, five-yard passes, so we could push ourselves up the pitch. As soon as you go long with the ball it was never reach its destination."
The Green Lions remain third in the table, but have sides with games in hand above and below them.