Adebayo Akinfenwa: Gillingham striker searches for consistency
Last updated on .From the section Football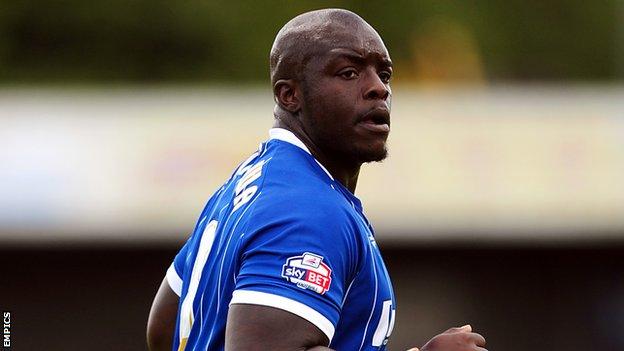 Gillingham striker Adebayo Akinfenwa says his time with the club this season has been frustrating at times.
"It has been a bit frustrating for me. Anybody that knows me knows I want to be playing," he told BBC Radio Kent.
"This season has been a new feeling. I haven't been used to being on the bench this much."
Akinfenwa scored 34 league goals in two seasons with Northampton before re-joining the Gills last summer. He previously spent the 2010-11 campaign with the Kent club, scoring 11 goals.
This season the former Torquay and Swansea man has been in and out of the side but, after Danny Kedwell had a hernia operation earlier this month, he has started three of Gillingham's last four games.
"I want to play every minute, even though sometimes my body won't allow me," he said.
"For me it is about consistency [and] trying to get some minutes on the pitch. Sometimes it is tough and frustrating to sit on the bench.
"I am getting some minutes and that is coinciding with some good performances and goals. The more minutes I play, my body will get used to it and the better I will be able to play.
"But as long as the team are getting the results and I am getting some minutes I am happy."
Akinfenwa is known for his 16-stone frame but he is determined that his size does not define him as a player.
"I am not a small guy - I will be the first to say it," he admitted. "Everyone has got a perception of what a footballer is and, because I am a certain size, that I can only play one way - as a battering ram.
"More than anything I prefer the ball on the floor. I think I play my best football on the floor.
"There is a delicacy to this big giant.
"It is society and the world. There is a perception. We all do it and have perceptions of individuals.
"Anyone who has watched me over my career knows there is more than just a battering ram."
Meanwhile, Akinfenwa has described teammate Cody McDonald as "the best striker in League One".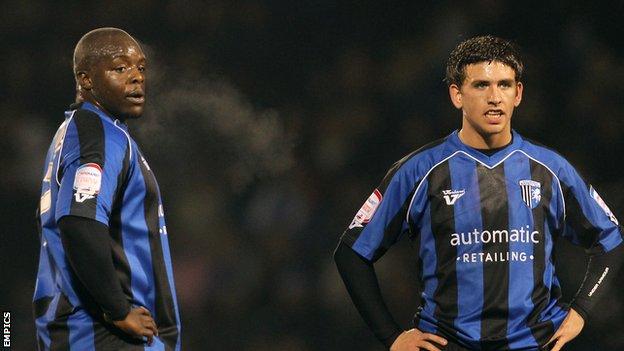 McDonald, who formed a successful partnership with Akinfenwa for the Gills in 2010-11, has scored 12 goals in 28 league games this season.
"I have played with a lot of strikers over my career and seen a lot this season," Akinfenwa said.
"We have got a good partnership and understanding. We showed it first time around with all the goals we scored and we are showing it again.
"Cody makes me look great because people think I am doing all these great passes but I just put it into space and Cody goes on and scores.
"We complement each other very well and that is plain to see; with his desire to run and my desire to battle. I enjoy playing with him and with Keds being injured we need to step up."