League Cup final: Rangers boss unsurprised by venue choice
Last updated on .From the section Football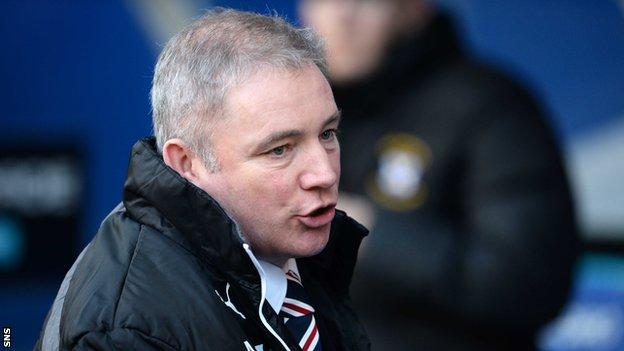 Rangers boss Ally McCoist was "not surprised" Celtic Park was chosen over Ibrox to host the League Cup final.
Hampden is being readied for the Commonwealth Games and Rangers host Dunfermline 24 hours before the final between Aberdeen and Inverness CT.
The league match at Ibrox was listed as a "key factor" in the SPFL's decision.
McCoist said: "I did say to the chief executive that if we were allowed to bet, which of course we're not, get a few quid on (it) not being at Ibrox."
SPFL chief executive Neil Doncaster said Glasgow was "blessed" with three stadia with capacities in excess of 50,000.
And, with the national stadium unavailable on account of the 2014 Games, attention turned elsewhere regarding a suitable venue for the 16 March showpiece.
"So, we were left with two to consider and we had a full consultation with the clubs involved, both venues: Celtic Park and Ibrox; and with Police Scotland and the broadcasters," explained Doncaster.
"The key determining factor was that, at Ibrox on the day before the final, Rangers are due to host Dunfermline.
"That's likely to be a live televised game and, in those circumstances, it just wouldn't have been possible for the broadcasters to de-rig on the Saturday and get rigged up in time for the Sunday."
However, McCoist told a media conference on Thursday that he did not feel Ibrox was in the running to be chosen to host the final.
"I just didn't think it would be. It was my own opinion," he said.
"I think obviously Neil [Doncaster], or indeed whoever is running the SPFL, made the decision and they'll stick by it.
"I've worked with television long enough that I know these boys are unbelievable at their job in terms of de-rigging and setting up for games.
"Come on. That doesn't wash with me and I don't think it washes with you either."
Dunfermline travel to Ibrox on Friday for BBC One Scotland's live Scottish Cup game and McCoist is looking to improve on a record of one quarter-final appearance in five previous attempts in the two main cup tournaments.
"You need a bit of luck to go on a cup run and we certainly need that, but we certainly believe we've got players who can go on a cup run," he said.
"We believe, outwith Celtic, who would be most people's if not everybody's favourites to win domestic competitions because of their strength at this moment, we believe we are on a par with the rest of the SPL teams. Aberdeen are obviously very strong as well.
"But we are looking forward to the tie and nothing more than an opportunity to extend our run."