Chelsea's Eden Hazard aims to reach level of Messi and Ronaldo
Last updated on .From the section Football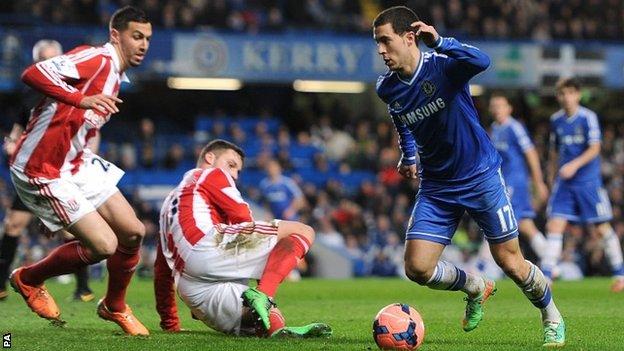 Chelsea midfielder Eden Hazard has told BBC's Football Focus he wants to be as good as Lionel Messi and Cristiano Ronaldo.
The Belgian, 23, has been in top form for the Blues this season, scoring 11 goals in 34 appearances.
"These players are the best on the planet," he said of Barcelona's Messi and Real Madrid's Ronaldo.
"They score one, two, three goals every game. It's something you've got to aim for - to get to their level."
Argentina forward Messi, 26, and Portugal counterpart Ronaldo, 29, have won the last six World Player of the Year titles between them.
Hazard, who joined Chelsea from Lille in 2012 for a reported £32m, added: "They are obviously top, top level players.
"To get to their level, it's a case of working hard every day in training, enjoying myself and expressing myself as much as I can on the football field."
Hazard thinks he is already one of the stars of world football.
"I'd probably say I'm up there with some of the best, but we've got to realise there are lots and lots of good players in the world," he continued.
"What I would like to do is shed the adjective 'young' because that would mean I've crossed that barrier and gone one step further in my career."
You can watch the full interview on BBC Football Focus, Saturday, 8 February, BBC One, 12:00 GMT