Hernanes hopes Inter Milan move boosts World Cup bid
Last updated on .From the section European Football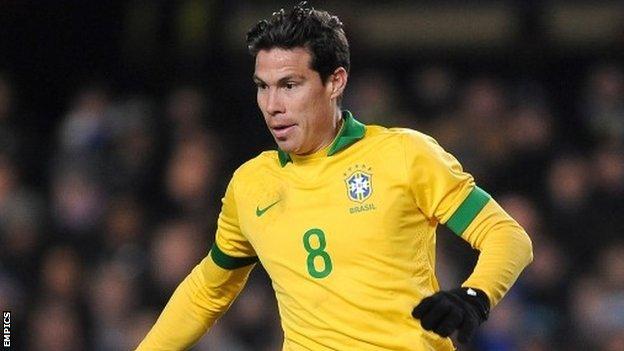 Brazil midfielder Hernanes hopes his move to Inter Milan from Lazio on transfer deadline day will boost his World Cup hopes.
The 28-year-old, who joined Lazio from Sao Paulo in 2010, is believed to have cost Inter £16.5m and has signed a four-and-a-half-year deal.
He has won 23 caps for Brazil, who host this summer's World Cup and sit in Group A with Croatia, Mexico and Cameroon.
"I think Inter will give me even more credibility in terms of the national team. It was a big move. I've made a step up. It will certainly be important for the World Cup," he said.
"What are the two things I admire most about Inter and its history? First of all they're the only club to have never been relegated to Serie B.
"This is proof that it's a serious club that knows how to get results. Then there's the fact that Inter were never caught up in the scandals that hit Italian football a few years back. I'm pleased about that. I'm someone who likes to steer clear of controversy, that's why I always do what's right and fair. Being at a club like this strengthens my attachment to the cause."
Inter sit sixth in Serie A and have not won the title since 2010, but managing director Marco Fassone thinks the Hernanes move could spark a revival.
"Could Hernanes be the key to turning things around? Yes, for me it's an important signal," Fassone said. "It's a deal that brings a significant addition to the team, and one which perhaps shouldn't have been made when looking at things simply from an economic standpoint.
"But adding such an important element shows great ambition, and even in such a complicated season like this one the acquisition of Hernanes represents a significant improvement for the team."