South Wales derby: Cardiff need points - Kenwyne Jones
Last updated on .From the section Football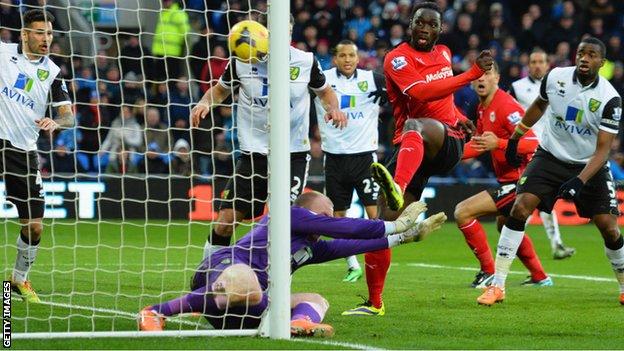 Kenwyne Jones believes Cardiff City need three points more than Swansea from Saturday's South Wales derby.
And the Trinidad and Tobago striker finds himself pitched into a derby against arch-rivals the Swans who this week dismissed manager Michael Laudrup.
"In a situation like that you have to be aware because it could be a case of a wounded animal - they are probably in disarray," said Jones.
"Both teams have their separate situations and I do believe that we need the points more than them, so we have to go into the game trying to get those points and trying to play a proper game."
The derby will see former captain Garry Monk take control of the Swans for the first time since being put in charge "for the foreseeable future" following Laudrup's departure on Tuesday.
Jones arrived at Cardiff from Stoke City during the January transfer window in a swap deal involving Peter Odemwingie.
It was one of seven transfer deals concluded by Ole Gunnar Solskjaer since taking over as Cardiff manager following the departure of Malky Mackay.
Now Jones hopes to repay his manager by helping Cardiff complete an historic double over Swansea.
The former Sunderland striker believes he knows what to expect, having previously played in North East derbies against Newcastle.
"From what I've been told about the south Wales derby, it's a mirror image of the north east one.
"For us I think we have to play the game and not the occasion.
"For myself and for a lot of experienced players in the squad I don't think we're going to get overawed.
"The derby is basically for the fans to go wild but we as a team have to focus on our game and winning that game.
"Personally when you have derbies like this to be able to get the bragging rights over the opponents is a major thing.
"But again there's added importance on it, we do need to get three points to try and get out of the relegation group.
"Last week was the beginning but this is just another game."
Cardiff are 19th in the Premier League, but are only three points behind Swansea who are 12th.
The Swans have won only once in their last 10 Premier League matches, and lost 1-0 when the clubs last met in November.
The clubs first met in 1912, and in the intervening 102 years neither side has ever completed a league double over the other.
It's an added incentive for Jones.
"We're going to try and inflict as much pain as we can because I believe it's more important for us," he said.