Sepp Blatter hints at 2015 Fifa presidency run
Last updated on .From the section Football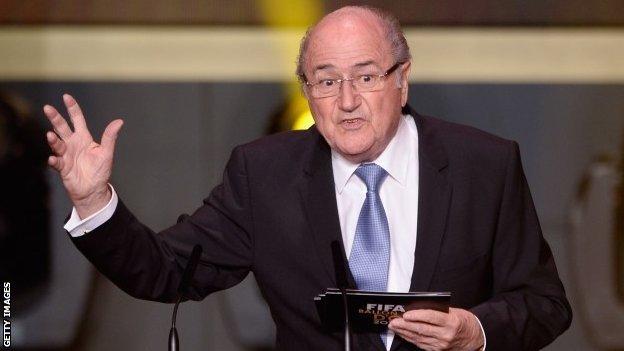 President Sepp Blatter says he will reverse his decision to stand down and instead run for another term from 2015 if Fifa members ask him to.
"I am in good health. I don't see why now I should think to stop work," he told Swiss radio station RTS.
"If the member associations asked me to be a candidate, I would not say no."
Speaking in October, Blatter refused to rule out running in 2015, saying that he "wanted to fulfil his mission" at Fifa.
Jerome Champagne, a former aide to Blatter, is the only person to declare their intention to run in 2015, but conceded that he would withdraw if his former boss entered the race.
Michel Platini, the former France midfielder and current Uefa president, has been tipped as a possible candidate and Blatter said in 2012 that his long-time ally would make a "good president" of football's world governing body.
However he is unlikely to take on Blatter, who has large base of support among Fifa members, if the Swiss runs.
Jeffrey Webb, the head of the Confederation of North, Central American and Caribbean Association Football and a Fifa vice-president, ruled himself out of contention for the 2015 poll in October.
"There are lots of people who say it's necessary to carry on, the continuation is necessary, it's not necessary to stop," Blatter added.
The potential candidates may become clearer on 10 June when Fifa's 209 member countries meet at their annual congress in Sao Paulo ahead of the summer's World Cup in Brazil.
Blatter, who has worked for Fifa for 38 years, made his comments the day after speaking out against the International Olympic Committee's age limits for members.
In the wake of evidence that members were bribed to award the 2002 Winter Olympics to Salt Lake City, the IOC brought in new rules that all members retire by 70. If, like Blatter, they were in post before the regulations changed, they can remain until 80.
"We at Fifa concluded that imposing an age limit is an act of discrimination," Blatter told an IOC audience in Sochi.
"What needs to be changed can be done in a democratic way."