Celtic: Neil Lennon won't be forced out by abuse

By Kheredine Idessane
BBC Scotland
Last updated on .From the section Celtic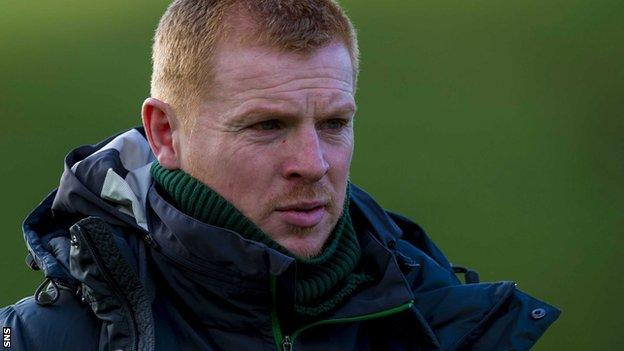 Celtic manager Neil Lennon insists he will not quit Scottish football despite being subjected to abuse.
Lennon says he has worked too hard to get to where he is and considers managing the club an honour.
The 42-year-old welcomed a police investigation into events at Tynecastle last week where he says a coin and a drink were thrown at him.
He was watching Aberdeen beat St Johnstone in the League Cup semi-final when the incident took place.
The former Celtic player has previously been advised by police over suspect packages and unwanted attention.
"Why this happens? I don't know," said Lennon, who retired from international duty with Northern Ireland over security concerns.
"In the past, there was no question it was sectarian, there were sectarian elements to what happened to me and people want to bury their head about that. I don't, I want it said, I want something done about it.
"This last week? There's no evidence of a sectarian element but certainly a hooligan element."
And Lennon disputes the notion that he brings such attention on himself.
"You cannot have people throwing coins at you while you're sitting there trying to do your job and yet some people at the back of their minds believe what they want to believe and think it's my fault," he explained.
"It's getting harder to comprehend because I don't think I've done anything to warrant it. I think my players, myself, my backroom team conduct ourselves in the best way.
"I think when there are flash points, which happens to every manager and every backroom team, it gets highlighted and blown into the stratosphere.
"I see managers every week losing the rag. I don't complain about it because I understand how they're feeling. But there's no pictures of them the next day going up to the fourth official and being abusive or squaring up to another manager.
"When I'm involved, it's front and back page and I think that's the balance the media here have overlooked.
"I'm not happy with some of the stuff that's come out this week regarding myself in terms of journalists saying, 'he attracts it, it's his controversial, confrontational nature'. For me, that's very irresponsible towards me.
"I'm no more confrontational than any other manager in the SPFL. However, when it's an issue regarding me it seems to be imbalanced, I think."
Lennon insists he lives his life "as quietly as I can away from football".
"I love doing what I do. It's a lot to give up. I don't really want to do that if I can avoid it.
"It hasn't come to that point yet, certainly not. What will deter me is if things go wrong on the pitch, if I don't get the success that I want and that'll be determined by other people, not me.
"I'm in the public eye and you get scrutinised a lot. A lot of the stuff has been almost life threatening and the condemnation's been nowhere near enough.
"I'm the manager of a big club with a lot of history and I'm very proud of that fact and I want to be as successful as I can for as long as I can."