Celtic profits boosted by player sales, figures show
Last updated on .From the section Football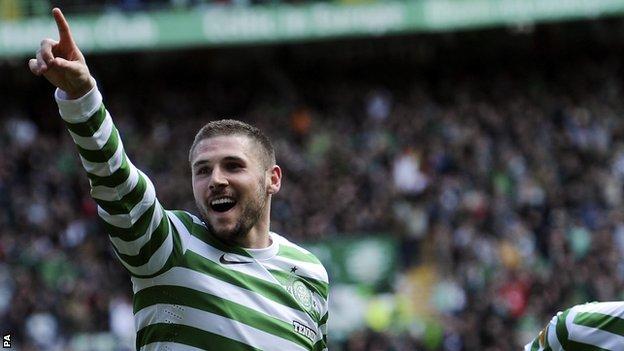 Player sales helped boost Celtic's pre-tax profits from £14.9m to £21.3m, according to latest figures.
Half yearly figures to the end of December 2013 were boosted by the sales of Gary Hooper, Victor Wanyama and Kelvin Wilson.
Celtic also progressed to the group stage of the Champions League.
Club chairman Ian Bankier said the results showed that the club is in "excellent financial health" and strives to live within its means.
Figures show profit from trading before asset transaction and exceptional operating expenses of £10.5m - down from £13.1m the previous year.
Revenue at the Scottish Premiership leaders fell 11% from £50m to just under £45m.
Neil Lennon guided his side to the Champions League, but they finished bottom of Group H comprising Barcelona, AC Milan and Ajax.
"Prudent investment in and management of our playing squad is a key component of the club's strategy," added Bankier.
"Our profit on disposal of intangible assets of £16.5m, in comparison to a profit of £5.2m last year, largely reflects the transfers of Gary Hooper, Victor Wanyama and Kelvin Wilson," he said.
"As at 31December 2013, net cash at bank was £5.7m. Our profit before taxation for the half year was £21.3m, an increase of over 40% on the same period last year."
The club said decreased revenue "largely reflects the impact of our decision to make the £100 reward for adult season ticket packages".
Playing fewer home matches and a lower points tally to the previous season's Champions League group stage were also cited as factors.
Bankier said the club's strategy remained unchanged, adding: "Our overwhelming priority is to win the SPFL Premiership and to qualify for the group stages of the UEFA Champions League and beyond.
"We seek to give our manager the best tools for the job, within the constraints of our economic environment; we aim to create value by investing in our youth academy and by acquiring players that we can develop; and in terms of the finances we seek to live within our means."