Arsenal face defining fixtures after mauling at Liverpool

By Phil McNulty
Chief football writer
Last updated on .From the section Football760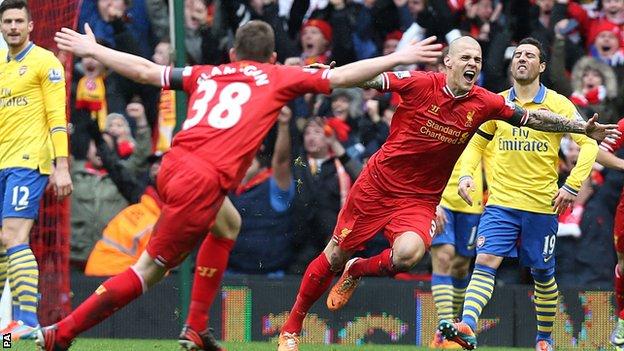 Arsene Wenger admits the doubters have been waiting for Arsenal to fall apart since the season's first kick - their time duly arrived inside the space of 20 devastating minutes at Liverpool.
Arsenal's manager knew the questions heading his way as soon as he took his seat in a room inside Anfield just yards away from where he had spent a harrowing 90 minutes watching, make that suffering, as Liverpool crushed his side 5-1. The scoreline flattered the Gunners.
The day started with Arsenal as Premier League leaders, the detractors kept at bay by that status, and with Wenger preparing to face a defining spell in what has been such an impressive season.
As Wenger and his shell-shocked players made their way back to London, every doubt expressed about this team was picked over amid the wreckage of a defeat that could yet inflict psychological as well as footballing damage.
The Frenchman was ready for the questions, and accepted them with dignity, but admitted he and his side could not even begin to answer them until Manchester United arrive at Emirates Stadium on Wednesday.
It is only right that some perspective should be applied to this loss, it is after all only one loss which still leaves Arsenal only a point behind new leaders Chelsea. It does Arsenal and Wenger a disservice to suggest all their groundwork should be dismissed on the evidence of 90 minutes, even 90 minutes on this horrific scale.
And Wenger can also point to Arsenal's response to the 6-3 loss at Manchester City in December, which saw them collect 16 points out of the next 18. This is the positive slant and the context Wenger is entitled to.
Now for the less palatable part of this equation.
What cannot be denied is that the Gunners delivered a whole truckload of evidence for those waiting to call time on their title aspirations. And the next three fixtures will provide the sternest examination of which direction their season will take.
After United on Wednesday, they face Liverpool again in the FA Cup fifth round before Champions League holders Bayern Munich arrive in London.
Wenger took his place amid Arsenal's collective responsibility, especially in the opening phase of a game in which every foundation upon which he has built this campaign collapsed.
His side's previously reliable defence conceded two set-piece goals to Martin Skrtel inside 10 minutes. Possession, so prized to Wenger, was conceded cheaply as Raheem Sterling and Daniel Sturridge made it 4-0 after only 20 minutes.
In this period Sturridge, Luis Suarez (had his 30-yard volley gone in instead of striking the woodwork) and Jon Flanagan could have added to Liverpool's advantage.
Arsenal were lost and bewildered. Jack Wilshere was reduced to squabbling and what Mesut Ozil was reduced to no-one quite knew. The £42.4m man encapsulated all that was bad about the visitors in a lightweight, wasteful, listless effort. He was put out of his misery after an hour - some might suggest he deserved to stay on as punishment.
No-one can doubt Ozil's quality but sometimes other qualities are required. When Arsenal were pinned against the ropes at Anfield, it was hard to escape the conclusion that he wanted little to do with it.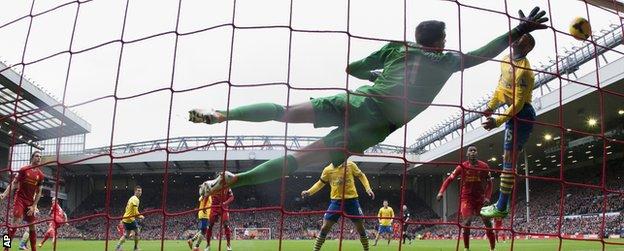 So now to those questions Wenger admits Arsenal must answer. Quickly.
Can they recover from what hit them at Anfield? If ever a loss was designed to dismantle confidence this was it. Wenger wisely admitted it was not talk but actions that would hit back at the detractors.
The forthcoming fixture list is a double-edged sword. It can be viewed as an opportunity for the Gunners to show their mettle but also as the worst type of hazard for a damaged team.
Was this the real Arsenal, limitations exposed by results such as those at Manchester United, Manchester City and Liverpool? Is a place in the top four the best they can hope for?
These setbacks suggest they struggle to match the best away from home but they will still have plenty of opportunities to collect points in their remaining fixtures. They cannot afford slips because the Premier League now has the capacity to become congested around those Champions League places.
The key question, as Wenger rightly suggested, cannot be answered until Wednesday and the opportunity to put the wheels back on the wagon against the reigning Premier League champions.
Wenger's faith in his team, as ever, remains unshaken but he must now show supreme powers of motivation and the next 10 days offer little time to gather his thoughts.
What is beyond doubt is that Arsenal have reached the key stage of their season. And what happened at Anfield was the worst possible start, outplayed, outpaced, outmuscled. Thrashed.
If there were any redeeming features in this Arsenal display, it would require an industrial-strength telescope to detect them.
Their fine season so far means Wenger and his players deserve respect and the opportunity to answer the questions he accepts this performance raised - but the importance of the next fortnight cannot be underestimated.