Swansea captain Ashley Williams will give everything for Garry Monk
By Rob Westall
BBC Sport Wales at the Liberty Stadium
Last updated on .From the section Swansea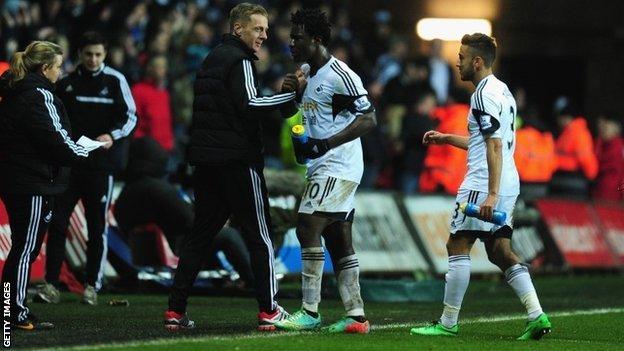 Wales captain Ashley Williams says he is 100% behind Swansea caretaker manager Garry Monk.
Williams embraced Monk on the pitch after Swansea's 3-0 Premier League win against Cardiff on Saturday in his first game in charge.
"I would do anything for Garry Monk," said centre-back Williams.
"I have been in so many battles with that guy over the last six years."
The pair played together regularly at the heart of the Swansea defence, as the club rose up the leagues to claim a place in the top flight.
Last season they lifted the League Cup together, as the Swans won their first major domestic trophy.
The result against their fierce Welsh rivals saw Swansea move up to 10th in the Premier League table - four points above the relegation zone - and Williams says his side "need all the points" they can get to steer themselves closer to safety.
Monk, still a registered player for the club, has rarely played over the last two seasons because of injury.
He revealed after the game he had received advice from some of his former bosses: Liverpool manager Brendan Rodgers and and Everton chief Roberto Martinez.
"They gave me advice which I will keep to myself," Monk added.
"They are guys at the very top of their game and when they are giving you good advice and wishing you well and giving you little bits and bobs it can only help."
Monk made an inspired substitution at half-time, bringing on Pablo Hernandez who set up the opening goal with virtually his first touch.
Sporting a club tracksuit, Monk made full use of his technical area, sending instructions to his players, urging them not to sit on their lead.
After the game Monk said he had enjoyed the experience and had tried to ram home some of the club's ethos to the players in the build-up to the match.
"The first principle here is hard work," he said. "That was the first words I said to the players.
"It is the only way you get where you want to get to. That is the main principle we have always had here, and the style of play.
"But you have to understand it and implement it every single day and I told the players when they come into training everything else stops, it's about hard work what is going on in there.
"That's what I did this week, I did not give them time to think about what else was going on or what anyone has said. We wanted it to be quick, sharp and intense. But the players know that."
When asked why he decided to wear a tracksuit instead of a suit on the touchline, he said: "Three or four days ago I was a player so if I go and stand there now in a suit, for me it doesn't quite look right.
"For me you have to earn the right to wear that suit.
"Players have to earn the right to play and I have to earn the right to be manager."