Man Utd boss left cursing his luck and Fergie Time in reverse
By Alistair Magowan
BBC Sport at Old Trafford
Last updated on .From the section Man Utd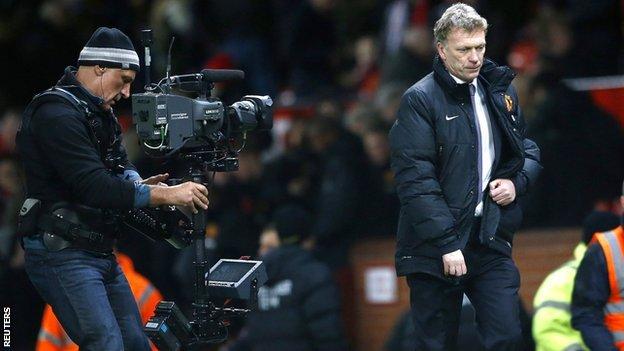 After losing 10 games this season David Moyes is becoming accustomed to disappointment as the Manchester United manager who faces the arguably impossible job of replacing Sir Alex Ferguson.
But when his side conceded a 94th-minute equaliser against bottom-of-the-table Fulham on Sunday, the United manager wore the look of a man in disbelief, a man who has started to question whether there is some greater force at work.
Ferguson said in his recent autobiography that he used to point to his watch in games to spook opposing teams, as if to say "we're coming for you". Such was his team's capacity to score late on, those added-on minutes came to be known as "Fergie Time".
Under Moyes, though, the concept appears to be working in reverse.
This is the fourth time under Moyes that United have let in a crucial late goal. Southampton and Cardiff both earned last-gasp draws, with Swansea knocking them out of the FA Cup at Old Trafford courtesy of a 90th-minute effort.
Having completely dominated against Rene Meulensteen's stubborn side, United eventually recovered from Steve Sidwell's early opener to score twice in as many minutes through Robin van Persie and Michael Carrick.
Such was the relief after the most one-sided match at Old Trafford this season, Moyes and his assistant Phil Neville turned to the jubilant home fans and started double fist pumping the air.
It was similar to the celebrations displayed by Ferguson and his sidekick Brian Kidd when United scored in stoppage time in a 2-1 win over Sheffield Wednesday during their run to a first Premier League title in 1993.
It was to be beaten, though. Given that he worked alongside Ferguson for five years, Meulensteen probably has a better grip of "Fergie Time" than anyone in the Premier League and he got his taste of it from the opposition bench when he leapt to celebrate Darren Bent's header.
"It's been a bit like that this season so far," Moyes admitted afterwards. "But today was probably as bad as it gets. We completely dominated the game and being 1-0 down was bad enough, but the amount of attempts and chances and the play we had, how we didn't win the game comfortably, I've no idea."
Conceding so late on is a troubling trend. But reaching a point where the manager cannot understand why his side is not winning must be becoming worryingly familiar for United fans. Moyes admitted a similar point when they lost at Stoke in their previous match.
Winning just three of nine games in 2014 has led him to a stage where he also confessed in his programme notes that his focus was now on next season's Champions League.
That has seemed the limit of United's ambitions for a while, but it is significant that, until now, Moyes has deflected questions about whether his side can still challenge for the title.
More concerning, however, is that even a top-four spot is looking increasingly out of reach.
Fourth-placed Liverpool are nine points ahead of their rivals from down the East Lancashire Road but that gap could increase this week.
Brendan Rodgers's team visit Fulham on Wednesday, while Moyes takes his side to face Arsenal, who will be smarting from a 5-1 thrashing at Anfield.
When Moyes suffered consecutive home defeats by Everton and Newcastle in December, he said the team would turn their form around.
But mentions of his side's misfortune have increased in volume since the turn of the New Year and reached their loudest yet after Sunday's result.
Without question, United battered Fulham - but at what point does a performance stop being about luck and more about the approach?
Against Fulham, United sent in 81 crosses, the most in a Premier League match since 2006. Only 18 reached their intended target, though, as visiting centre-backs Johnny Heitinga and Dan Burn continually headed clear.
At one point Moyes had five attackers on the pitch as they chased the game, but two of them were 5ft 7in Juan Mata and 5ft 9in Javier Hernandez. English defender Burn is 6ft 6in.
Meulensteen said afterwards: "Their game plan was straightforward. They put crosses in from wide angles. We defended it well. If you are well organised, it can be easy to defend against."
When I put it to Moyes that he might have considered a different approach, he bridled.
"I think if you are going to look at the stats and pick out the number of crosses, you need to look at the number of passes," said the Scot. "I don't think we just went out and crossed the ball.
"And a lot of people would say that one of the big things about Manchester United is that they do play with width, it's in their genes here, so if we are talking football, I would probably discuss your point differently."
United always relied on getting the ball to the flanks under Ferguson. But £37m record signing Mata is a player who shows his craft in the width of the penalty box. He is someone who can unlock the door with a neat one-two on the edge of the area.
In this United team he has been deployed in a wider position and has had to drop deep to get on the ball. Although he has only played three games, there are signs he is beginning to click with Van Persie and Wayne Rooney.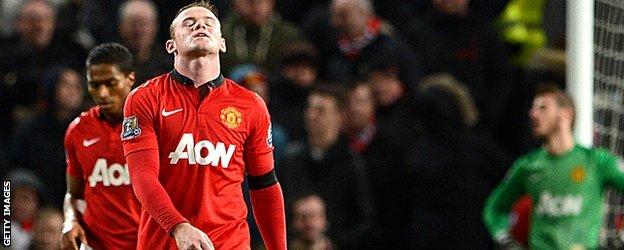 There are other issues that Moyes must address if his side is to challenge for fourth spot, though.
Nemanja Vidic returned from suspension but there were signs it might have been a good decision not to offer the Serb another contract after he was roasted by Fulham's youthful strikers on more than one occasion and his poor clearing header lead to Bent's goal.
Replacing the centre-back at the end of the season is a longer-term issue, but the more pressing concern is how Moyes can get his attacking players clicking. It could take a change to a 4-2-3-1 formation where his team can dominate midfield against better teams and get Mata on the ball more regularly.
The United manager still appears to have the support of the fans, who were fully behind the team as the club again trialled their singing section, but there was a smattering of boos at full-time.
For a United team in transition, the disturbing aspect might be that with wholesale changes expected in the summer, it could get worse before it gets better and using luck as an excuse will have long worn out.
Especially if Moyes misses out on a Champions League spot.