Craig Bellamy: Cardiff boss Solskjaer 'disappointed' with ban
Last updated on .From the section Cardiff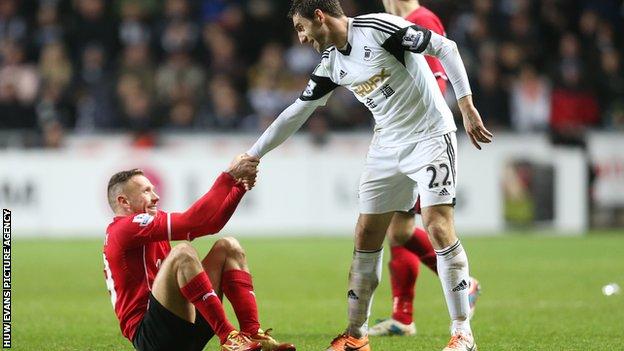 Cardiff City manager Gunnar Solskjaer is disappointed with an FA decision to suspend striker Craig Bellamy.
The player has accepted a three-match ban for striking Swansea's Jonathan de Guzman in Saturday's south Wales derby.
Bellamy missed Tuesday night's 0-0 draw with Aston Villa and will also have to sit out games against Wigan Athletic in the FA Cup and Hull City in the league.
"We're very disappointed Craig is suspended because we don't think there's any violence," said Solskjaer.
The Football Association charged Bellamy with violent conduct over the incident, which was not seen by the officials but was captured by television cameras.
Bellamy decided not to appeal against the decision.
The incident occurred during the second half of the Premier League game at the Liberty Stadium.
Solskjaer admitted the players collided, but feels it did not merit a suspension.
"He [Bellamy] runs into him, yes there's a collision there and his arm is up, but there's no violence," added Solskjaer
"It's just a little bit of a nudge - I don't see any violence in it."
Cardiff remain in 19th place in the Premier League after the draw with Aston Villa, and Solskjaer believes the decision to suspend Bellamy at a crucial time of the season could work in his side's favour.
"It galvanises us," he said.
"We're not going to get any help from anyone - no suspensions overturned - we're going to have to do this ourselves."