Hereford United: Bulls sign leases to stay at Edgar Street
Last updated on .From the section Football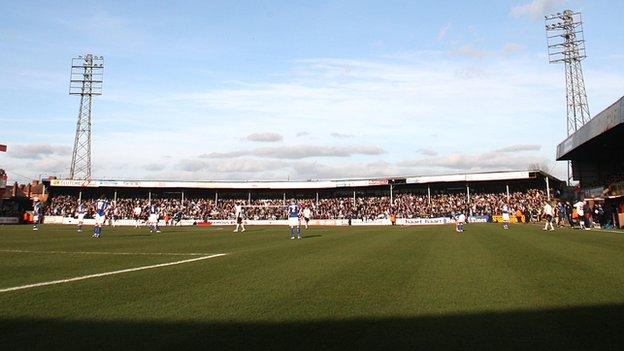 Hereford United have signed new leases to remain at Edgar Street, their home for the last 90 years.
The new leases with Herefordshire Council are key to future development plans the Conference Premier club have at both ends of the ground - their only home since their formation in 1924.
"It secures the club's immediate future at Edgar Street for the next 30 years," said Bulls director Bob Pritchard.
"It also provides opportunities for development on two ends of the ground."
Pritchard added: "With two new stands to be built, a 250-year long lease would then help secure the club's long-term future at Edgar Street."
The Bulls' long-term hopes of being able to redevelop Edgar Street come at a time when they have suffered major short-term financial worries, following the collapse of a potentially lucrative deal with a telecommunications company.
The downward spiral of Hereford's financial situation since being relegated from the Football League in May 2012 prompted the board to ask fans to pay extra at the turnstiles in their games over the Christmas holiday period.
Anonymous donations from fans of Hereford, and other clubs, helped the club raise sufficient funds to avert a winding-up threat brought by Revenue and Customs (HMRC) over the non-payment of a £36,800 PAYE bill.
But, although that debt - relating to October/November PAYE payments - has now been settled, the club are still warning that they need gates of over 2,000 at Edgar Street for the rest of the season to break even.
They continue to cut costs, having recently had to reluctantly make four backroom staff redundant, on top of the enforced January deadline day sale of star player Josh O'Keefe to Kidderminster Harriers.
Hereford still have a remaining HMRC debt of almost £25,000, which was due at the end of December.
The club have now asked the Hereford United Independent Supporters Association to oversee their continued fundraising operation.
Following the postponement of Saturday's home game with Macclesfield, Hereford currently lie 15th in the Conference Premier table, 11 points clear of danger, and also 11 points shy of the play-off zone.