Cardiff City 'look after' injured Craig Noone - Solskjaer
Last updated on .From the section Cardiff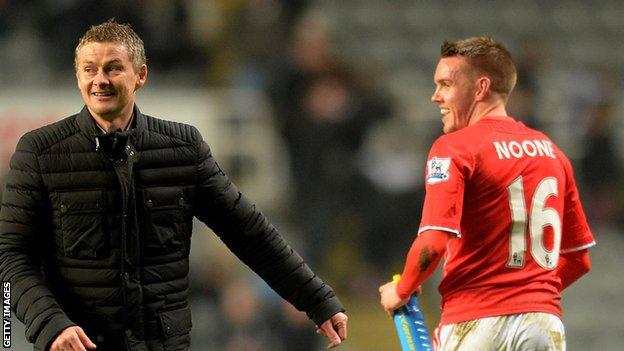 Craig Noone is back in contention for a starting place for Cardiff City against Aston Villa on Tuesday.
Winger Noone missed the 3-0 defeat at Swansea on Saturday, with manager Ole Gunnar Solskjaer revealing the player is carrying a muscle strain.
"We have a slight injury with Nooney [Noone] that we have to look after," he said.
"We've rested him for a few cup games and hopefully he will be available tomorrow [Tuesday] night."
Fans were critical of Cardiff's decision not to start with the 26-year-old former Brighton player in the south Wales derby.
But Solskjaer warned that the player's injury is likely to mean more periods of rest.
"I think he will [be available against Aston Villa] but then it might be a case of resting him again for a while," added Solskjaer.
Cardiff are second from bottom in the Premier League following the heavy defeat at Swansea, with 21 points from 25 matches - six points behind Villa.
Solskjaer said the players had responded well to the set-back at the Liberty Stadium, but face a stern test against Villa - who have picked up 16 points away from home this season.
"The attitude is fine the energy in the training was very positive," said Solskjaer.
"They've reacted the right way after such a bad defeat.
"After such a bad defeat you either bounce back or you just feel sorry for yourself - but you can't feel sorry for yourself in the Premier League so they're ready."
"We're going to pick up points away from home, but for the majority of the points we'll look at the games we've got at home, so this is one of them that we look at as a chance to get points against a very good away team.
"Villa are one of the better away teams - they've impressed many, especially the game against Liverpool [when they drew 2-2] - so we know we're going to face a tough team."
The former Manchester United striker believes Cardiff need to aim at 38 or 39 points to avoid relegation.
"We'll probably need another maybe 17 or 18 points," he said.
"We're 21 now and you need about 37 or 38, maybe 39, to stay in the division.
"But you never know in the league - it's been so tight in the bottom half it might be that you need less.
"But the sooner you get as many as possible the better. We've got two home games next and we need to get some points."
In eight of the past 10 seasons, 37 points would have been enough to ensure Premier League survival.