Swansea City: Roberto Martinez backs Garry Monk appointment
Last updated on .From the section Swansea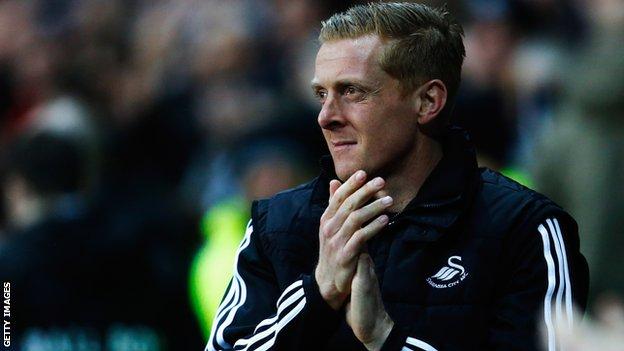 Roberto Martinez does not believe Garry Monk's appointment as Swansea City head coach represents a gamble by chairman Huw Jenkins.
The Swans beat Cardiff 3-0 in Monk's first game in charge and Everton boss Martinez has backed the appointment.
"Huw Jenkins has got an incredible judgement and he's the perfect person to make that call," Martinez said.
"Garry is very much part of Swansea City. He understands the way of playing, the philosophy so it's not a big change."
Martinez was a Swansea team-mate of Monk's and the Spaniard returned to the club as manager in February 2007, succeeding Kenny Jackett.
The Spaniard led the Swans to promotion to the Championship as League One champions in 2008 before he left to join Wigan Athletic the following year.
He believes the man who gave him his first opportunity in management, Swansea chairman Huw Jenkins, has made a bold move in replacing Laudrup with Monk.
"You need to remember one of the biggest strengths of the last decade at Swansea has been to have someone at the helm with the vision, the feeling and the understanding of what's needed for the team," Martinez told Radio Wales Sport.
"Huw Jenkins has had that vision every time that he has had to make a strong call.
"It was clear that the squad is good enough to achieve the aim in the Premier League - it was a matter of getting a figure as a manager that knows the dressing room.
"Garry understands the football club and understands the DNA of Swansea City.
"That really helps a manager when you've got control of the dressing room and the understanding of what's needed for the fans and the football club."
Swansea's 3-0 win over south Wales rivals Cardiff at the Liberty Stadium last Saturday put them four points clear of the Premier League's relegation zone.
Martinez, whose present side Everton face Swansea in the FA Cup fifth round on Sunday, says Monk can steer the Welsh side away from trouble.
"It was great to see in this game [that] the group is ready, the group is together and there's a real spirit in the players," Martinez said.
"The performances of the most experienced players showed that.
"I think it shows the team is ready to finish the season really, really strong and showing a great attitude towards Garry which is what you would expect from such a responsible group of players.
"You need to go back to 2003 when the club was fighting to avoid relegation out of the [Football League].
"Since then it's always been a case of fighting to achieve something, which is a completely different mind-set."