Arsenal manager Arsene Wenger expects response from Ozil
Last updated on .From the section Football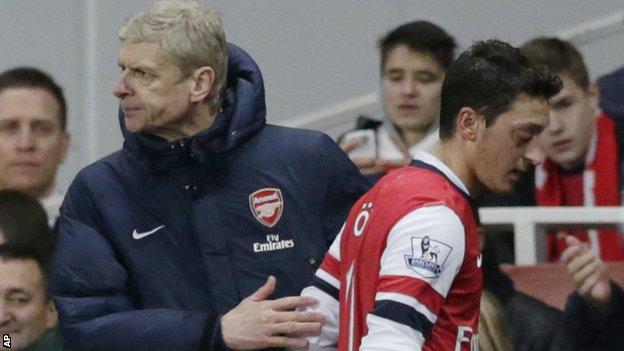 Arsenal boss Arsene Wenger is expecting £42m record signing Mesut Ozil to bounce back from criticism following a series of subdued displays.
The German, 25, has failed to score while managing just two assists in his last eight Premier League appearances.
"I wouldn't like to put too much pressure on him because he has been a top-class player until now," said Wenger of the club-record signing.
"He knows when he is not good enough he will get questioned - that is normal."
Ozil, who joined from Spanish side Real Madrid in September, made an impressive start for the Gunners, scoring four goals and providing six assists in his first 12 league games.
But the midfielder drew criticism for an anonymous display in Saturday's 5-1 thrashing at Liverpool, where he was substituted after 61 minutes.
"He didn't have the best of games on Saturday, but that can happen," added Wenger.
"He works very hard to adapt to the physical level of the Premier League and he is an exceptional player."
Speaking ahead of Wednesday's Premier League match against Manchester United, the Frenchman says he thinks David Moyes will succeed as Old Trafford manager given time.
Moyes replaced Sir Alex Ferguson - who won 13 Premier League titles in 27 years - in July but is struggling to emulate the success of his fellow Scot, with United currently seventh in the Premier League.
"When a person has been at a club for such a long time, it's always a void created when he goes," said Wenger. "But I believe Moyes, if given time, will do that perfectly."
United visit second-placed Arsenal with 14 points between the two sides and the Old Trafford club are nine points off the Champions League places.
Their problems this season were compounded when they were held to a 2-2 draw by bottom club Fulham on Sunday following Darren Bent's injury-time equaliser for the Cottagers.
"You need time and patience," said Wenger. "You need to be in a strong club. [Moyes] is in a strong club and I think he will be given time to do it."
The Gunners are hoping to reassert their title credentials against United following their disappointing defeat at Anfield.
"You cannot consider one game as the trend of our season," said Wenger. "It was an accident, not welcome of course and a disappointing one, but a successful season is decided by how you respond to that.
"We tend always to forget how good we are when we are not successful.
"It is important to remember that until now we have done very well, that we are in front of a very important week for us and that we have worked very hard until now to get into this position.
"I love this group of players. They deserve success and I think they will respond in a very positive way on Wednesday."
The Frenchman added: "It's safer for us to focus on our performance than to expect any weakness from Manchester United."
Meanwhile, Wenger refused to be drawn on speculation that United striker Robin van Persie, who left the Gunners in a £24m deal in August 2012, could return to the club.
When asked if he would rule out a move for the Dutchman, he replied: "I think it's best we don't talk about that at the moment."