Portsmouth: Plans submitted for Fratton Park development
Last updated on .From the section Portsmouth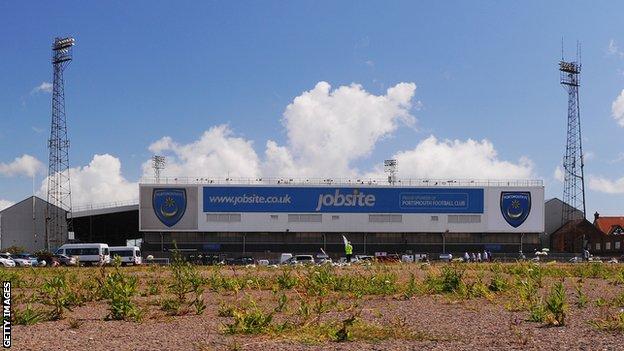 Property developer Stuart Robinson has submitted plans for the development of the land surrounding Portsmouth's Fratton Park ground.
The plans include a new supermarket and improvements within the stadium itself.
Robinson told BBC Radio Solent: "We've worked very hard over the last six months pulling everything together.
"There is a lot of work to do but we've outlined some short, medium and long-term objectives which the club will put into operation. They are long overdue."
Robinson, who is one of 11 presidents on the board of Portsmouth's owners, the Pompey Supporters' Trust, bought the land around the stadium in February 2013 in the knowledge that Portsmouth City Council would only allow developments on the site if the club's Fratton Park home was upgraded or they moved to a new arena elsewhere.
The PST also owns Fratton Park after finally agreeing a deal with Portpin, led by former owner Balram Chainrai, in April last year, an agreement which allowed the group to complete its takeover of the club, which had spent 14 months in administration.
The land totals nearly 10 acres of car park and office space to the north and west of the stadium and was seen as pivotal to the club's future.
The area had been owned by Miland Development 2004 Ltd but was put up for sale after it went into administration.
It was initially bought by former owner Milan Mandaric in 2004 and 2005, and then passed the the club's next proprietor, Sacha Gaydamak.
The French-Israeli businessman held on to the land as security for money he claims he was owed by the club until he also placed Miland into administration in 2012.
"The area has been vacant for many years and I think it's important to pull it all together - this is a win for a lot of people," Robinson added.
"There are some parts of the land to the north which are not included in the plans and we will be looking to redevelop those in the future.
"At the moment we are just focusing on the area that the club will use for future car parking and the retail development."
Should the plans be accepted by Portsmouth City Council, work is likely to begin as early as this summer with the supermarket scheduled to open in 2015.
The building of the store is seen as key to the future redevelopment of the stadium.
"It's a big decision for the community, the football club and the council," Robinson admitted.
"Hopefully we should be hearing some news on the planning decision in early May."