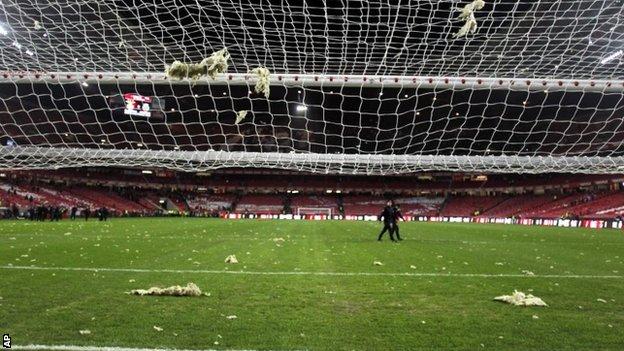 Benfica's derby with Portuguese title rivals Sporting Lisbon was postponed on Sunday, 9 February after strong winds damaged the stadium.
Glass wool and other debris came off the roof and fell onto the pitch and into the stands at Estadio da Luz in the capital city.
The game was then postponed for security reasons.
Benfica lead the 2013-14 Portuguese league table from champions FC Porto by one point, while Sporting are another point behind.

The derby will now be played on Tuesday, 11 February at 20:15 GMT.
Portuguese Football League president Mario Figueiredo said: "There were small pieces of glass which had come off the roof.
"An emergency meeting was held around 15 minutes before the kick-off and we asked the civil defence if the game could go ahead. They said it couldn't and told us to evacuate the stadium as quickly as possible.
"Fortunately this measure was decided in good time because shortly afterwards the pieces (of the roof) started to fall. A tragedy was avoided.
"We had to take this drastic decision."