Sherwood: Spurs need Liverpool to falter in Champions League race
Last updated on .From the section Tottenham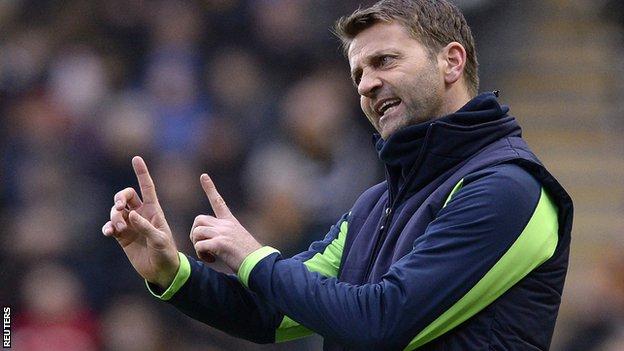 Tottenham manager Tim Sherwood says his team are relying on fourth-placed Liverpool to drop points in the battle for Champions League qualification.
Fifth-placed Spurs are three points behind the Reds with 13 games of the Premier League season remaining.
The two sides meet in a potentially decisive game at Anfield on 30 March.
"There's always someone who could drop a couple of points but our big rivals Liverpool are flying. We need them to trip up," said Sherwood, 45.
And he believes his team could possibly afford to lose as many as five games and still finish in the top four to reach next season's Champions League.
"Maths isn't my strong point, but I would say you can afford to lose another four or five games out of what we have got left," added the ex-England international.
When asked if nine wins from their remaining matches would be enough, Sherwood replied: "It could well be."
On Sunday, Tottenham earned a narrow home win against Everton - another team with ambitions of Champions League qualification - to move above their opponents into fifth.
They are six points clear of seventh-placed Manchester United, who were later held to a 2-2 home draw against bottom side Fulham.
Sherwood says any side down to ninth place, including Newcastle, who Spurs visit in the Premier League on Wednesday, are still capable of claiming a top-four place.
"Newcastle have to consider themselves in it, possibly Southampton, Manchester United for sure," he said.
"Everyone is waiting for Man United to come up on the rails. I can't see that not happening - they will put a run together and be right up there.
"Our target is fourth place and it always has been. If we can get higher than that then great but it is the target we are looking for."
Sherwood, who skippered Blackburn to the Premier League title in 1994-95, admits there is "always a risk" that his key players may want to leave White Hart Lane if they are not playing Champions League football next term.
France goalkeeper Hugo Lloris, who has been one of Spurs' star performers, would be keen on a move to north London rivals Arsenal, claimed Gunners striker Olivier Giroud.
But Sherwood said: "Tottenham is a massive club and will always attract big name players. The club sells itself."