Alfreton Town: Nicky Law lauds Reds' work ethic
Last updated on .From the section Alfreton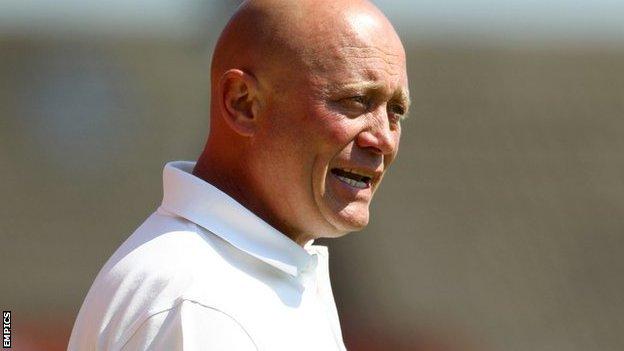 Alfreton Town boss Nicky Law said his team's challenge for promotion all stems from their impressive work ethic.
Law's side lie third in the Conference still one point behind Cambridge, but are six points clear of Nuneaton who are just outside the top five.
"The first thing is we put the workrate in. We have worked hard and developed ourselves into a good unit," Law said.
"If you look at the likes of Chelsea, not only have they got good players, but they work themselves into the ground and they have to, because if they don't, they don't play."
Alfreton are still seven points adrift of leaders Luton Town and have played three games more than both the Hatters and the U's.
But Law is thrilled with the way his part-time side performed at the Abbey Stadium - and also how they have played throughout the season.
"As a team, we worked our socks off and it's a great win for us. Everyone's workrate was excellent," Law added.
"You have only got to look at where Cambridge are in the league and they are there for a reason because they are a good side.
"But we are third because we are a decent side.
"I think we deserved it. I know they piled a lot of pressure on late on, but as a team, as a group, we defended very well.
"There were a few hairy, scary moments when the ball was flying in and around the box, but I don't think they have had a real clear-cut chance.
"We are obviously pleased. That takes us to within a point of them, albeit it that they have got games in hand but like I keep saying, all we can keep doing is our best and that's what we are doing."