Salisbury City target 2,000-strong crowd at Kidderminster clash
Last updated on .From the section Salisbury City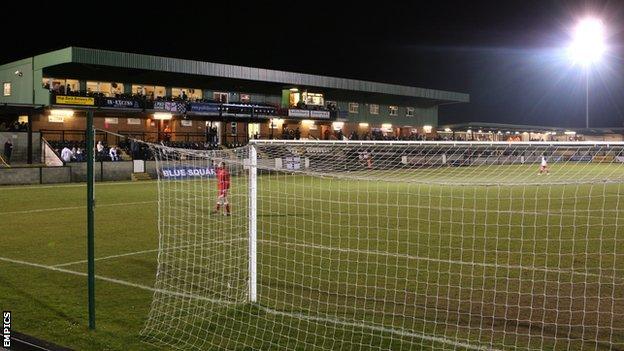 Salisbury are campaigning to get 2,000 fans to attend their Conference Premier game against Kidderminster on 29 March.
The Whites are fifth in the league but are only averaging a home crowd of 900, which is below their 1,300 target.
In a bid to boost attendances, manager Mikey Harris and his players will be visiting local schools to hold question and answer sessions - and hand out complimentary tickets to pupils.
"We don't understand why we are so down on numbers," Harris told BBC Wiltshire.
"What we need to do if we want to progress is to grow that core of people.
"Fundamentally, my budget is based on the income of the club. We want to progress and we've shown we are capable of progressing on the pitch.
"If people want a professional team in this city then they need to get out and back the club."
The Raymond McEnhill stadium can hold a capacity of 5,000 and the club are now working towards setting a new season attendance record when they face promotion rivals Harriers.
In their last home game, against Woking on Tuesday, only 624 were in attendance.
The city of Salisbury has a strong military allegiance and the club have said they will also be offering discounted tickets to members of the armed forces.
The Whites are a full-time outfit in non-league's top tier but have struggled with money issues in the past.
The club signed a three-year repayment plan with Revenue and Customs in 2008 to avoid being wound up and were handed a double demotion a year later after missing a deadline to pay creditors.
They announced in December they had officially come out of administration.