Alan Pardew praises patience of Mike Ashley and Newcastle fans
Last updated on .From the section Newcastle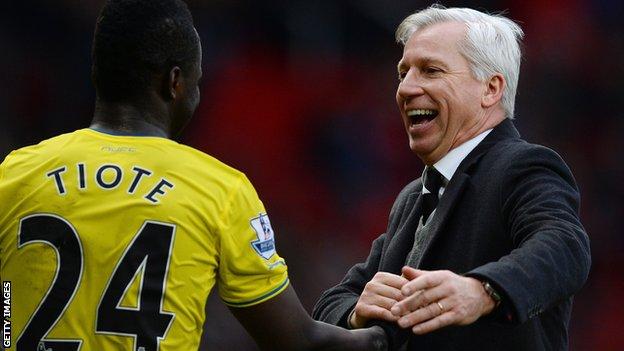 Newcastle United manager Alan Pardew has thanked the club's fans and owner Mike Ashley for their patience as he approaches his 150th game in charge.
The Magpies boss is the second-longest serving manager in the Premier League, behind Arsenal's Arsene Wenger.
Pardew reaches his milestone 150th game on Wednesday, when his ninth-placed side face Tottenham at home.
"I've had days when the owner and fans could easily have made things even more difficult than they have," he said.
"Now I want to get to 200 games with some silverware."
In the last three seasons, Newcastle have finished 12th, fifth and 17th in the Premier League, and the 52-year-old said he was proud of his league record since being appointed in December 2010.
"I've obviously had some emotional games here that I've lost, particularly the Sunderland games and the FA Cup games, but the league games outside of that I'm proud of because I've enjoyed it," Pardew told BBC Radio Newcastle.
"The fans here feed on the enthusiasm I have for the game, and if we can get the right investment during the summer I genuinely think we can make an even stronger impact than we've had this year."
The Londoner added he believed his side could still finish above seventh-placed Manchester United in the chase for European qualification.
"Part of my job is to try and motivate the side with any incentive I can find, and Manchester United not winning gives us an incentive to chase them and try and finish as high as we can.
"Last Saturday, looking at that Chelsea team and my team, it's a daunting task when they're on top form. But if you can catch them on an off day, or when they're not quite right and you're at your best and have everybody available, then you can beat them. We've proved that.
"We've beaten Man United, we've beaten Spurs and Chelsea, so we have to try and hang on to that, that when we're right we can beat anyone and I never don't think we can."
Although Pardew's side were beaten 3-0 by Chelsea at the weekend, Pardew said the experiment of playing defender Davide Santon in midfield, following the transfer- window sale of playmaker Yohan Cabaye to Paris St Germain, had been a success.
"We want to have a platform for next year. I've already said our style will change a little without Cabaye, but I need to see these players, and I do need to see certain situations.
"Davide Santon's midfield performance [against Chelsea] . . . forget about what it looked like to the naked eye, his stats were very good, which is great news. It gives us a player we can put in there now.
"If we have an injury late in the game, for 20 minutes or something, Davide can play in there. Or we want to shore it up a little bit towards the end of the game we know he's competent, and has the confidence of doing it against Chelsea. His pass rate was fantastic, as good as anyone at Chelsea."