Manchester United: David Moyes says champions need better luck
Last updated on .From the section Man Utd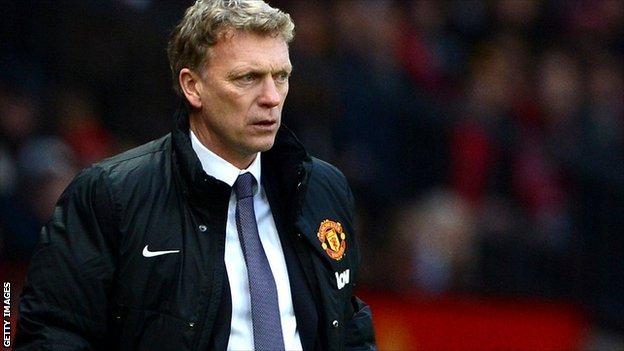 Manchester United manager David Moyes says his side need their luck to change to turn round their faltering season.
United take on Arsenal at Emirates Stadium on Wednesday with the Champions in seventh place - nine points off the top four and a Champions League place.
They are 21 points worse off than at this stage last season and have lost five times in 2014 as well as drawing with bottom-placed Fulham.
"We need our fortune to change, our luck to change," said Moyes.
"There are definitely things in the games which have gone against us."
He highlighted David De Gea's error against Sunderland that denied United a place in the League Cup final and Sunday's 2-2 draw with Fulham, when the Cottagers equalised in injury time at the end of the match.
"We can only blame ourselves and we need to do better," added Moyes. "We are not looking for excuses for it, but there has been some circumstances where a bit of luck's been missing.
"Winning changes it - and we have not won often enough."
Moyes also insists United - who reported an 11.6% rise in revenues for the second quarter of their financial year on Wednesday - played well against Fulham and brushed off criticism off his tactics on Sunday.
"On any other given day you would win the game quite comfortably," he added. "Anybody who watched the game the other day and didn't think we deserved to win by a hundred miles knows nothing about it.
"A lot of people are looking at the Fulham game and saying we crossed it too much. If we hadn't crossed it, they would be saying we should have crossed it more.
The former Everton boss, who took over from Sir Alex Ferguson in the summer, also says he intends to make changes at Old Trafford but believes he still has a strong squad
"There's a really good group of players here," he said. "They have shown it previously. I see them every day, I see how good they are.
"There's a little bit of transition period and we're looking to make some changes as we go along, but we've got a really good squad, I'll look to add to it, but that's what Manchester United have done over the years."