Grantham Town: Barrie Pierpoint aims high for Evo-Stik strugglers
By Owen Phillips
BBC Sport
Last updated on .From the section National League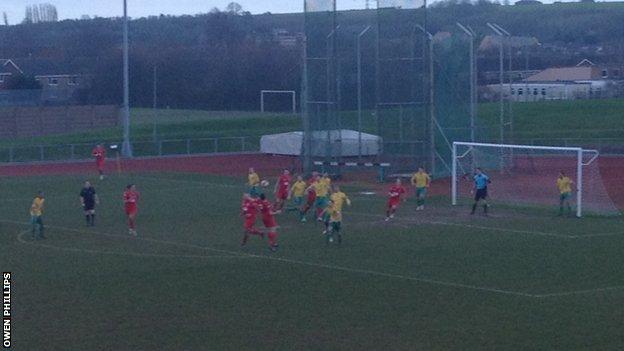 Grantham is famous for a few things.
But other than being where Martin O'Neill cut his managerial teeth, football does not appear high - or indeed anywhere - on the list of fascinating facts about the Lincolnshire town.
Barrie Pierpoint - the new part-time chief executive at the Evo-Stik Premier Division side - wants to change all that. With 10 years as CEO at Leicester City and a wealth of experience within football, he has grand plans.
How realistic they are remains to be seen but he has an infectious enthusiasm and supreme confidence that he can play a part in transforming the club's fortunes.
And he is convinced his time with the Foxes will still be relevant for his "next challenge" despite the obvious differences.
"You can scale it down to the level you are in. I had a very successful 10 years at Leicester, increasing turnover and profits," Pierpoint said.
"I can take a lot from there. You can water it down and can do the same thing here.
"It's all about doing what you can do at this level. It's all about confidence, trust and delivering what you say you will deliver.
"I got involved because I saw the potential of an organisation that has the makings of a good and big club.
"The commercial opportunities here are massive. The football club in any area should be the community centre of the town. It should be the hub and Grantham is no exception.
"So many things should be happening from it - academies, young kids coming for coaching, the younger teams going out into the community to schools.
"We should be doing more, attracting more interest, working with businesses and organisations that want to put more money in the pot.
"That is what it is all about - working in partnership with people."
Chairman Peter Railsford is equally as ambitious. He feels Pierpoint's enthusiasm is exactly what is needed because the board have taken the club as far they can.
Railsford and the board have invested heavily in bringing a youth system back to the club. A year ago there wasn't one. Now the Gingerbreads have an under-18s side, as well as numerous other age group teams and a starter group on a Saturday morning. They are also looking at forming a reserve side for next season.
And negotiations are also ongoing with "a major player" to fund the academy.
"You can only do much because people are working full time," Railsford said. "I heard Barrie might be available so we had a couple of meetings and he is excited about the job.
"He has a three-year plan but I don't think he knows what he has let himself in for.
"We can't take it any further. We are fully committed to work as we all have other jobs. We need someone who can take the reins."
The ambition cannot be faulted. But with average gates of around 250 and the club lying 17th in the table, the end goal seems a long way off.
Pierpoint is convinced they can realise those lofty dreams. He believes tapping into the facilities at their home ground at the Meres is key to their future development.
"The club is a very nice, family friendly community club and it has a lot going for it," Pierpoint added. "I was impressed by the facilities. It is modern with a family feel and the stadium is good.
"Commercial investment will give us more money to invest in the team and the academy and then all of a sudden the thing starts to take off.
"Sustainability is about confidence and once it starts on a roll other people want to be part of the success.
"The organisation behind the scenes is so important so that when people come on a matchday they get well looked after and well treated and get a nice experience.
"If we get all that right, then the whole club can go forward. There is a lovely conference and banqueting centre and that facility needs to be managed and operated seven days a week. We need to maximise the commercial areas."
Former Manchester United and England winger Lee Sharpe was a star performer at a recent dinner at the club and ex-England and Arsenal forward Paul Merson is teed up to do a turn soon.
On the pitch things are already picking up.
The return of management duo Wayne Hallcro and Jimmy Albans - who had a successful three-year spell in charge culminating in winning promotion to the Evo-Stik Premier Division in 2011/12 - has boosted the club's fortunes.
Albans is in no doubt the set-up at the seemingly permanently blustery Meres home ground is all geared for success - and that despite the windswept surroundings and sprinkling of supporters, Pierpoint's plans and promises are more than fanciful bluster.
"The football club has always had potential," Albans said. "We just need to release some of that potential - just like the team.
"We have always said the facility we play at, the town that we play in and the players that we can get - the club can go anywhere it wants to go.
"But this level of football is no different to any other league: you move up the ladder if you have finance and have money coming in through the gates.
"We want stability until the end of the season and then we really want to try to kick on next season. We want better things."
Their last home league game brought an impressive 3-1 win over Marine in a match played in atrocious wind that saw goalkicks going out for corners and the team playing against the gale-like weather unable to play the ball more than five yards off the ground with any sort of confidence.
That is standard fare according to Albans.
"When you play here week in, week out you get used to these conditions," Albans explained. "It's like there is a wind turbine and somebody turns it on at 2pm on a Saturday.
"You play the conditions depending on if you are with or against the wind and we coped with the conditions a lot, lot better than they did."
No one more so than Grantham-born Gregg Smith who scored an impressive hat-trick to take his tally for the season to 18.
His first goal saw him watch a lofted ball forward fly over his shoulder, run in about three different directions as it swirled in the wind, control it instantly as it dropped and swivel and hit it instinctively towards a goal left vacant by an on-rushing keeper.
It was a moment of admirable quality in an entertaining game with some surprisingly good football given the abysmal hand dealt by mother nature. Although Marine levelled before the break, two more tidy Smith strikes in the second half - playing with the wind - ensured victory.
Smith, a burly 24-year-old with obvious quality, lives just around the corner from the club and walks to training. He has played for various clubs in the East Midlands but is thrilled to be with his hometown club, for whom he had a brief loan spell when he was 18.
"It didn't work out first time around but the managers have been great with me since they came back," said Smith, who has never been with an academy and was playing Sunday League football in and around Grantham before being spotted.
"They have taken the time with me and given me the confidence I think I needed," said the part-time footballer and recycling centre supervisor. "Now is the time for me to settle down."
Albans says it is all about developing their own talent.
Now players like Smith can stay in Grantham - and be properly coached.
"We are a big believer in youth," Albans added. "We are not into players that have been around and done their tour and are coming here to pick up their last few quid before they call it a day.
"Confidence breeds confidence and we have said to Gregg from day one that he will be part of our team and that he has a major, major part to play.
"He has talent but he has to take it to the next level."
Taking it to the next level is Pierpoint's aim. But ensuring there is substance to the well-meaning intentions rather than unrealistic bluster played out in a blustery background, is a major challenge.