Clarke Carlisle wants more education to combat homophobia
Last updated on .From the section Football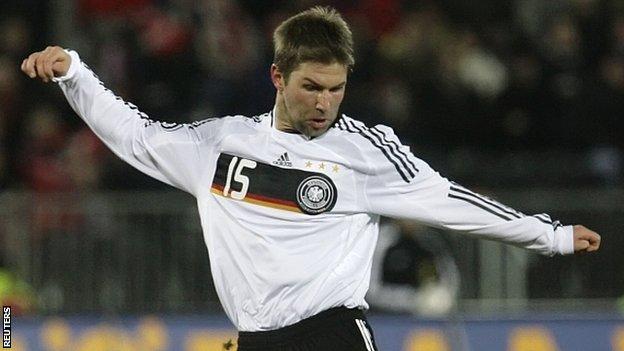 Players should receive more education to combat homophobia, according to former Professional Footballers' Association chairman Clarke Carlisle.
Carlisle told BBC Radio 5 live that homophobic language has long been commonplace in dressing rooms.
The 34-year-old admitted using it himself before changing his ways and starting to challenge others.
Former Bolton boss Owen Coyle told the programme attitudes to homosexuality have barely changed in 20 years.
Carlisle and Coyle were addressing the issue in the week that England women's captain Casey Stoney spoke publicly about being gay for the first time.
In the men's game, there have been no openly gay footballers playing professionally in England since Justin Fashanu in 1990.
Former Aston Villa midfielder Thomas Hitzlsperger retired before he revealed he was gay in January, while former Leeds winger Robbie Rogers also hung up his boots last year before returning to play for David Beckham's former team, LA Galaxy.
Carlisle, who played for a host of clubs - including Blackpool, QPR and Burnley - before retiring in 2013, said football dressing rooms would not be an easy place to be openly gay.
"I've used the language that now I would be really disgusted to hear," Carlisle, who was PFA chairman from 2010 to 2013, told the 5 live special, which airs on Thursday at 21:00 GMT.
"I used it really flippantly, maybe thinking it was banter.
"But it was only by awareness and interaction and actually understanding the effect and power of the words that I was using on someone who is homosexual that I got an understanding and started to address my base-level language use.
"That progressed to being able to be in a dressing room over the last three years of my career and actually being able to challenge others."
Coyle was a team-mate of Fashanu's at Airdrie in the early 1990s, not long after the former Norwich striker had revealed he was gay.
"I'm totally amazed that there has not been a follow-up in terms of players being able to be comfortable," he said.
"I think we can understand why because of the stigmas and everything involved but I just thought when he did that at the time there would be a follow-on and it never really came about."