John Terry: Roy Hodgson right to look to England's future

By Phil McNulty
Chief football writer
Last updated on .From the section Football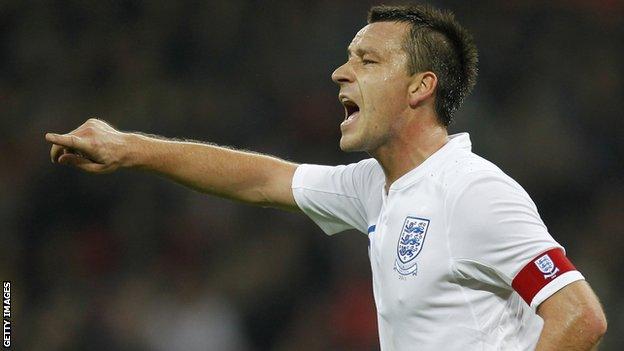 John Terry has no wish to revive his England career and manager Roy Hodgson has no wish to revive it for him - but the time was still right for the final word on this lingering argument.
When a time-served veteran announces his England retirement and the manager shows not the slightest inclination to persuade him otherwise, the situation does not usually require clarity.
Indeed, the issue of Chelsea captain Terry's future has become such an irrelevance for Hodgson, consigned so far to the past, that he answered one question on the matter by asking if people would like to discuss the England merits of Colin Todd and Roy McFarland - Derby County's classic defensive partnership from the 1970s.
And yet a combination of circumstances meant that whispers suggesting England's World Cup hand would be stronger for Terry's inclusion in Brazil were getting audibly louder in recent weeks, with former striker and BBC presenter Gary Lineker a notable public supporter.
There is little doubt Terry would bolster England's defensive resources if he were to hint at a return but he has not given any indication that he wants the shirt again after losing the captaincy and making an acrimonious departure amid criticism of the Football Association.
It was in September 2012 that Terry announced the closure of his England career after 78 caps shortly before he was scheduled to face an independent commission and a charge of using racially abusive language towards Anton Ferdinand in a game against QPR.
Terry had been cleared in court but felt the FA had made his position with England "untenable" by continuing to pursue charges against him. This was not an amicable parting.
Since then, Hodgson has occasionally been drawn reluctantly, and on his part very briefly, into the Terry question with not a shred of hard evidence to suggest this might actually come to pass.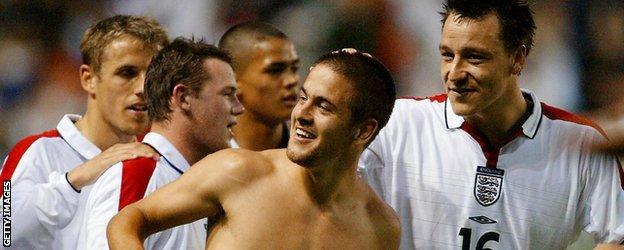 This is why Hodgson is right to close the door firmly on any possibility of Terry's return (not that the 33-year-old has ever suggested he wanted to return it should he stressed) and move into the future with the players he can call on.
If every decent performance was to prompt calls for some form of rapprochement between the player and the FA, there would be the danger of destabilising England's squad with a sideshow ahead of Brazil, especially for Everton captain Phil Jagielka - presumably the defender those in favour would like to see jettisoned to accommodate Terry.
Hodgson is right to nip this in the bud once and for all, although no responsibility should be attached to Terry for the resumption of the conversation.
If Terry is to blame for the dust being blown off this debate, it has only been by his own outstanding form for Chelsea after being re-energised by his reunion with Jose Mourinho.
The real catalyst for those favouring Terry's return came with his performance alongside one of Hodgson's trusted England central defenders Gary Cahill in Chelsea's 1-0 win at Manchester City.
With a trademark display of organisation, power and aerial ability, it was a display that revived memories of his best days. The fact that Cahill was his partner, and almost as effective, as Chelsea stopped City's seemingly endless gush of goals, only added weight to the case for a potential return.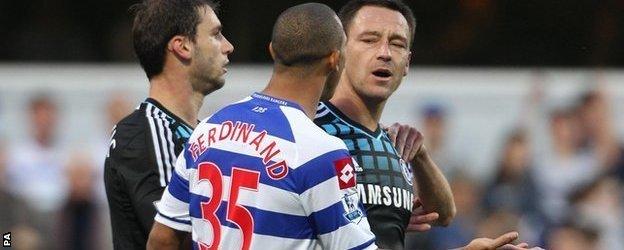 In this context, it is worth remembering that it was done in the absence of the fleet-of-foot and deadly finishing of Sergio Aguero and in the presence of an Alvaro Negredo who was struggling for fitness and Edin Dzeko.
It was a game perfectly suited to Terry's talents but hardly a successful audition for a World Cup group that will see England threatened by Uruguay's Luis Suarez and Edinson Cavani.
And Hodgson retains great faith in his favoured partnership of Jagielka and Cahill, after qualifying unbeaten from Group H and conceding only four goals.
There has been a suspicion, heightened by England's back-to-back Wembley friendly defeats against Chile and Germany, that this area of Hodgson's side will fall short against world-class strikers.
And with Manchester United pair Phil Jones and Chris Smalling not yet suggesting they are undisputed England class and Joleon Lescott sidelined at Manchester City, the cupboard marked "central defenders" is not exactly bulging.
Terry may strengthen the numbers and provide experience but there is no guarantee he would be a success in the rarefied atmosphere of a World Cup in Brazil.
Even the wildest optimists cannot make a case for England winning the tournament, so where is the mileage in turning back to the past when indicators for the future may be the best outcome in South America?
Then there is the baggage - lots of it - that would accompany Terry if he had returned.
Twice stripped of the England captaincy, Terry has so often proved a lightning conductor for controversy and the squad has taken on a calmer air for the lack of chaos - not always the Chelsea defender's doing - surrounding the current captaincy of Liverpool's Steven Gerrard.
Remember the furore surrounding Terry's infamous press conference at "Camp Capello" in Rustenburg in South Africa in 2010?
In this observer's opinion, Terry was unfairly accused by some of leading a perceived revolt against Capello's austere regime, his only crime being championing the cause of then Chelsea's team-mate Joe Cole when it was none of his business.
He is, however, a controversial figure and attracts headlines like a magnet. Would he, and indeed Hodgson, want all that again?
The door has never been open for a Terry return and he is blameless for continuing discussion - but Hodgson is correct to finally bolt it shut.