Weather postpones over 500 Isthmian League games
By Chris Osborne
BBC Sport
Last updated on .From the section Football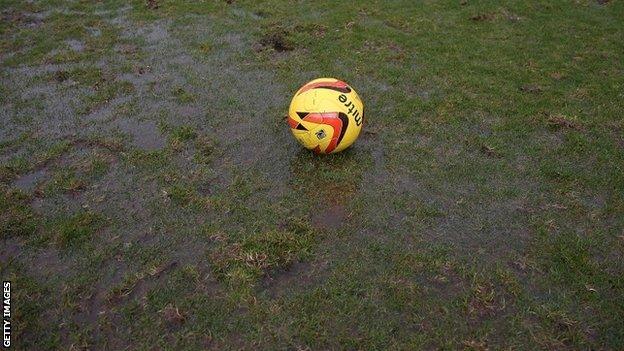 The Ryman League has said the weather has caused more than 500 postponements in its three divisions.
Isthmian Premier, North and South teams from London, the south east and East Anglia have suffered with waterlogged pitches since mid-December.
Needham Market boss Mark Morsley told BBC Radio Suffolk he believed league officials were not looking after clubs.
But Ryman League chairman Alan Turvey said: "We're doing everything we can to assist the clubs."
Known as the Ryman League for sponsorship purposes, the Isthmian's Premier Division is on the third step of the non-league pyramid, with sides able to win promotion to the Conference North or South.
The league includes teams from Suffolk, Cambridgeshire, Norfolk, Essex, London, Hertfordshire, Kent, Surrey and Sussex, which are among areas to be affected by severe weather conditions this winter.
There had been 528 postponements as of last weekend and around 200 of 350 games in the league's three divisions were called off during January, causing a fixture pile-up, although the majority of games have either been rescheduled or played since.
It will mean sides will face the prospect of playing on Tuesdays, Thursdays and Saturdays to complete the season.
Ryman Division North play-off hopefuls Needham have not played a home game since 14 December.
Their manager Morsley has called for the season to be extended beyond its current completion date of the first week of May.
"Frankly I'm amazed [that the season has not been extended]. I think the people who run our league may be the only people in the country who don't watch the news," said Morsley.
"They have a responsibility to non-league clubs. The clubs are reliant on home games to fund their business model. As far as I'm concerned the people who run our league are not doing their job."
The Isthmian League has said a season extension could not be granted without the permission of the Football Association.
And prolonging the season would cause problems with allocating relegated and promoted teams to new divisions throughout the pyramid.
"We're making everything as easy as possible. The one thing we can't control is the weather. But we certainly do care," said Turvey.
"As a league we can't extend the season. There is an end date and we have to abide by that.
"Whether the FA say 'hold on we're going to have to extend the season'. I don't know, but it can't be extended for long.
"Teams desperately want to play and we're doing everything we can. We're as concerned as anyone else."