Matt Bloomfield: When training becomes a diving contest
By Matt Bloomfield
Wycombe Wanderers midfielder
Last updated on .From the section Football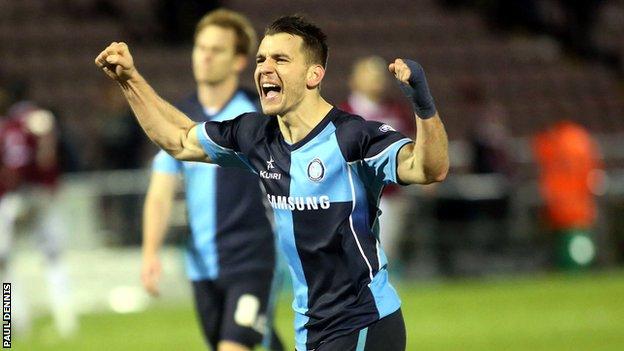 I guess it was a sign of things to come when we spent New Year's Day running through the puddles in a park in Exeter.
I did not quite realise at the time how much the rain was going to affect lower league football over the coming weeks.
We travelled down to Exeter on New Year's Eve only to wake up to the sound of rain on the windows and the game was called off by 11am.
We made the best of it and found a training venue, but we ended up doing some running drills when the ball kept stopping in the puddles.
It certainly would not be the last time the weather affected training in 2014.
Without the luxuries of indoor facilities and several well-manicured pitches to choose from, lower league training grounds have turned to sludge.
When you are repetitively using the same area out of necessity, it obviously does not take long for it to cut up and it takes weeks for it to drain and return to a normal condition.
While the quality of the session has sometimes suffered, there are definite gains to be had in other areas.
All the lads out in the rain and wind getting the necessary work in together can add to team spirit and squad togetherness. When the forfeit is to dive through the biggest puddle the session definitely takes on an extra edge!
League Two rivals Newport are one team that have been drastically affected by the wet weather. They have had six of their past seven home league games called off, and have
That is a lot of money for teams at our level and can cause big problems in cash flow.
It also means they have got nine games scheduled for March, which brings problems in itself. The relentless nature of their fixture list will test their squad depth, but I'm sure it's something they have thought about and planned for.
There will not be too much training for them during this period. It will be all about recovery and preparation for the games.
Good results will earn them a few extra days off, a couple of bad results and they can expect extra training days.
Newport's games in hand offer them an opportunity to close the gap on the play-off places.
Below that, eight points separate 15 teams, and after Northampton's win at Torquay on Tuesday evening, it looks like the battles at both the top and the bottom of the league will offer a lot of excitement over the remaining couple of months.