Richard Wee: Everton fan meets Roberto Martinez after call-off
Last updated on .From the section Everton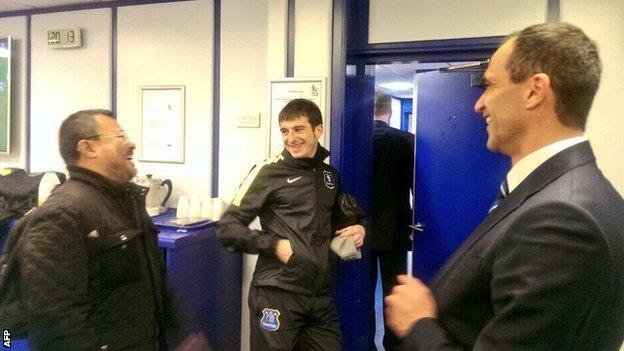 A lifelong Everton supporter who travelled from Malaysia for his first game was left disappointed when the match was postponed just an hour before kick-off - only to end the night being introduced to Roberto Martinez and Leighton Baines.
Richard Wee, a supporter of 30 years, travelled over for Wednesday's game against Crystal Palace but, when damage to nearby buildings caused the match at Goodison Park to be called off, club officials stepped in.
After being tracked down on social media, Wee met manager Martinez and defender Baines.
Wee will return to the club on Thursday, when he will be given a stadium tour by former Everton striker Graeme Sharp and meet national and local media.
"I wish to thank Everton for the great hospitality," tweeted Wee. "Really appreciate it, also much obliged to the many Evertonians sending warm messages.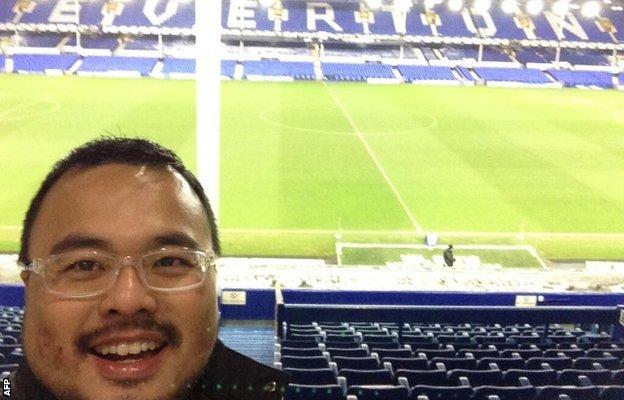 "Today Everton just proved again that it is the people's club, taking extra effort to connect with the fans. Salute to the people running the club."
The match between the sixth-placed Toffees and Palace, who are 15th, was postponed by police for safety reasons after buildings surrounding the stadium were damaged by the storms lashing the country.
Before the weather intervened, Wee had tweeted: "30 years since supporting Everton, will be watching EFC live for first time."
However, shortly afterwards he wrote: "Sadly Everton v Palace match called off due to bad weather. Dream to watch EFC play will continue to be on hold."
That prompted club officials to try and track him down, with Everton press officer Helen Mayo eventually writing: "We've found him and are making sure he doesn't leave too disappointed, taking him to meet some of his heroes right now."