Carl Froch and George Groves agree to rematch
Last updated on .From the section Boxing188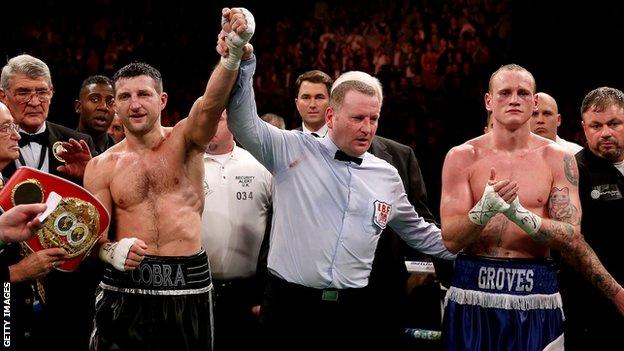 British super-middleweight rivals Carl Froch and George Groves have agreed to a rematch, to take place at a football stadium on Saturday, 31 May.
But Londoner Groves, 25, complained the fight was ended too soon.
"I listened to the public and gave them what they wanted. I expect this to be one of the biggest fights the country has ever seen," Froch said.
"I am still shocked that Froch has agreed to take the fight. I respect him for his bravery.
"Britain will have its own Hagler-Hearns to talk about for years to come."
The bout is the biggest rematch in British boxing since Chris Eubank fought Nigel Benn for a second time at Old Trafford in 1993.
Froch-Groves II is expected to break the box-office record for a British fight, with Old Trafford in Manchester and Arsenal's Emirates Stadium being suggested as possible venues.
Promoter Eddie Hearn said he wanted upwards of 80,000 people to be at the fight, adding: "I believe this is the biggest fight in British boxing history. I want to see how big we can make it."
The record attendance for a post-World War II boxing show was for Ricky Hatton's fight against Luan Lazcano, which drew 55,000 fans at the City of Manchester Stadium in 2008.
There were bitter recriminations in the wake of the first fight between Froch and Groves at the Manchester Arena.
Groves led on points after flooring the champion in round one but referee Howard Foster stepped in to halt proceedings when Froch went on the attack in round nine.
With Froch angling for a rematch against American Andre Ward or a fight with Mexican Julio Cesar Chavez Jr in Las Vegas, it looked like Groves might have to wait for his chance to avenge the loss.
He initially rejected a "seven-figure" offer from Froch's promoter Eddie Hearn for a rematch, claiming there were too many "stipulations".
But then, last month, the IBF ordered Froch to fight Groves again within 90 days or risk losing his belt.
Groves also petitioned the British Boxing Board of Control to restore his unbeaten status by declaring his defeat by Froch a no contest.
Froch continued: "It's been a difficult period for me following the first fight. I've had to listen to his endless whining and appeals when ultimately the referee did him perhaps the biggest favour possible and saved him from a devastating knockout, whilst denying me the right of a clinical finish and a great comeback victory.
"I was poor in the first fight. I didn't give him the respect as a fighter. I can't wait to get back in there and do a proper job."
However Groves said he was within his rights to appeal. He told Sky Sports: "All I want is a rematch."
Under the terms of the IBF's rematch directive, challenger Groves was only entitled to 15% of the purse.
However, Hearn said the directive would only have been relevant if the fight had gone to purse bids and suggested Froch had agreed to shift on the percentage.
Froch's victory in the first fight took his career record to 32 wins from 34 fights, while defeat for Groves was his first in 20 professional outings.