Morocco's Abdeslam Ouaddou wins case against Qatari club
Last updated on .From the section Football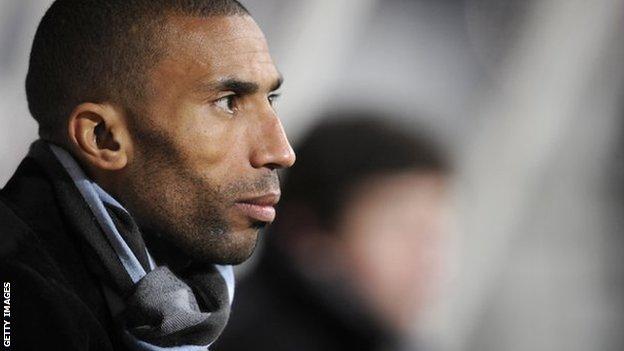 Former Morocco defender Abdeslam Ouaddou has won his case against a Qatari club after they failed to pay him for six months.
Qatar SC also then withheld his exit visa and so Ouaddou took his case to the Dispute Resolution Chamber (DRC) of world football's ruling body Fifa.
The DRC ruled in his favour and ordered the club to pay everything he is owed.
"I'm very satisfied with the decision of the DRC," the former Fulham, player told world players' union FIFPro.
"It shows Qatari people don't have to think they can get away with everything, that they don't have to respect the rules, that money can buy them everything."
He said that when he filed his appeal to the DRC in September 2012, his exit visa, which in Qatar has to be provided by the employer, was withheld and told it would be issued if and when he dropped his case.
Ouaddou said that when he threatened to report the case to human rights organisations, he obtained his visa.
"For me it is not about the money, it is a matter of principle. I was fighting for my rights. That is why I am so happy with this victory," he said.
The 35-year-old, who won 57 caps for Morocco, said it was too difficult to find a new club after he left Qatar and was now studying for a coaching licence.
FIFPro welcomed the ruling and said it knew of similar cases in 2022 World Cup host nation Qatar.
"The trouble experienced by Abdeslam Ouaddou is not an isolated incident in Qatar," the union added in a statement.
"FIFPro is well aware of other players who find themselves, or have been in, the same unacceptable situation as Abdeslam Ouaddou."
Last year French footballer Zahir Belounis finally returned home, saying he was left stranded for 17 months in Qatar because of a financial dispute with his club.
"This practice must stop. Freedom of movement cannot be abused, not even in Qatar," said Brendan Schwab, head of FIFPro's Asia division.
"FIFPro urges the Qatari football authorities and local authorities to respect the rights of the key people who will deliver that World Cup: the workers who build the World Cup stadia and the players who play in them."