CHAN finalists Ghana and Libya drop down Fifa rankings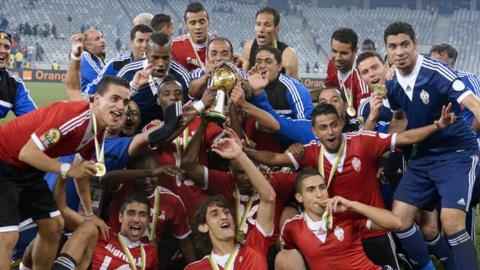 Ghana and Libya have dropped down Fifa's world rankings for February despite the fact they reached the final of the African Nations Championship (CHAN).
Results from the CHAN do count for the ranking system however points earned four years ago are taken away from the overall tally.
Ghana have dropped 13 places on the global list and are down to number four on the continent.
Libya are down one place in Africa to 14 and six places overall.
Ivory Coast remain the top nation on the continent but also slipped six places globally.
The biggest movers in Africa were Cape Verde, who climbed eight spots to 27 overall and to third in Africa.
Mali and Togo both dropped 19 places - the biggest losses globally for the February rankings.
Africa's Top Ten (World Ranking in brackets)
Ivory Coast (23)
Algeria (26)
Cape Verde Islands (27)
Ghana (37)
Egypt (38)
Tunisia (45)
Cameroon (46)
Nigeria (47)
Mali (59)
Burkina Faso (62)