Cardiff City blame Malky Mackay regime for transfer loss
Last updated on .From the section Football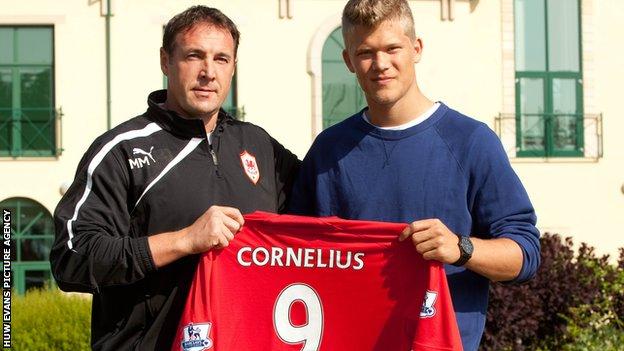 Cardiff City have criticised the transfer policy of former boss Malky Mackay and his management team, saying it cost the club millions of pounds.
Lim says "key shareholders" believe the loss is due to "imprudent and careless management" during Mackay's tenure.
But the League Managers' Association (LMA) says Mackay had to report to Lim regarding every transfer.
The Premier League club signed Cornelius for a then club-record £7.5m in July 2013 on a five-year deal, but his start in Wales was hampered by an ankle injury.
The 20-year-old made 11 appearances for Cardiff, failing to score, before rejoining former club FC Copenhagen in January.
He scored a hat-trick in his first game back for the Danish club in a friendly against Slovan Liberec.
His signing was among the reasons behind Cardiff owner Vincent Tan sacking Iain Moody as head of recruitment in October, and Mackay as manager two months later.
"In the case of Andreas Cornelius, who cost the club in total just under £10m, we realise a large loss in excess of £8.5m, inclusive of transfer fees, salaries, business and compensation paid to player's agents and other miscellaneous expenses," Lim said in a statement.
LMA chief executive Richard Bevan said it was "inappropriate and unprofessional" for both sides to make a statement given the "legal process" under way between the club and Mackay.
But he added the LMA issued a response as it is "only right" that the "record is put straight".
"Malky was obliged to report [to Lim] in respect of all matters pertaining to the transfer of players," said Bevan.
"This is the same Mr Lim who, when being asked more than once, upon dismissing Malky Mackay, why he was dismissing him, said that he did not know the reason. "
Bevan said all clubs, especially at an elite level, have systems in place for "corporate governance".
"Cardiff City is no exception," said Bevan. "A manager, even in the Premier League, does not go out and 'sign' players."
The BBC have asked Mackay and former Cardiff head of recruitment Iain Moody for a response.
Moody, now sporting director at Crystal Palace, has declined to comment.
Speaking to BBC Radio Wales Sport last week, Mackay said he had "no doubts" Cornelius would become a "top centre-forward".
"When we signed him he was a 20-year-old huge prospect, 6ft 4in, a centre-forward who had broken into the international team," said Mackay.
"To be Danish player of the year at that age is quite something. We outbid another European team to get him.
"What I said at the time still stands. £7.5m was our record transfer but a hit-the-ground-running centre-forward in the Premier League costs two or three times that and every team in the Premier League are striving for someone like that."