Manchester City v Chelsea: Will Mourinho outfox Pellegrini again?

By Phil McNulty
Chief football writer
Last updated on .From the section Football865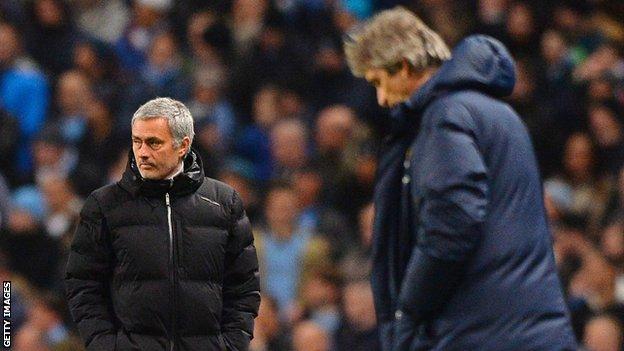 Manuel Pellegrini must reverse the course of his past history and prove he is not "spooked" by nemesis Jose Mourinho when Manchester City meet Chelsea in the FA Cup at Etihad Stadium on Saturday.
And Mourinho's game plan as Chelsea completed the Premier League double over City with a 1-0 away win on 3 February was regarded as a tactical masterclass which left Pellegrini outmanoeuvred.
City and Pellegrini have the opportunity to make amends for that first home league defeat this season by turning the tables on Mourinho and demonstrating the magnificent attacking football that has made them such a force at home.
But former Chelsea winger and BBC Sport pundit Pat Nevin believes Pellegrini must overcome his past as well as the present when he confronts Mourinho once more.
He said: "The only time Pellegrini didn't play two strikers this season was against Chelsea at Stamford Bridge and his record against Mourinho is dreadful. Often he wasn't with a strong team but I think he's spooked by Mourinho. I think Mourinho has got the run on him tactically.
"Mourinho has so many options but I can't see him adapting it too much. For me the best move Mourinho made was to kill off the impact of Yaya Toure. Pellegrini and City need to make sure that doesn't happen again.
"He used Nemanja Matic in front and Willian behind almost getting Toure in a pincer movement. I think he will do that again.
"I would have thought James Milner might be an option for City this time and maybe Jack Rodwell if he is fit because that's his natural position."
Pellegrini's use of two strikers in the home game led to suggestions it left City outnumbered in midfield - and Nevin thinks it will take courage on the City manager's part to repeat the ploy.
Nevin said: "I don't mind people who are brave enough to play two strikers but it would be very brave of him to do that and leave that midfield the way it was last time, because on many occasions it was four Chelsea players breaking on one or two from City.
"I would not predict with total confidence how Jose will approach this because two people I never like to second guess are, or were, Sir Alex Ferguson and Jose, because they think about it on a much deeper level than any of us do.
"Don't underestimate Manchester City, though, because they're a fantastic side. But if you have Sergio Aguero out and the opposition manage to kill off Yaya Toure's influence then they are a much lessened side."
Former Tottenham manager David Pleat is an admirer of Pellegrini's work and believes City can reverse the result this time - and does not subscribe to the theory that he handed a vital midfield advantage by playing Edin Dzeko and Alvaro Negredo as a front two.
Pleat said: "I think this time it will be different because City will have learned from it. City started well in the league game but didn't score and Chelsea grew in confidence.
"When you have got the likes of John Terry and Gary Cahill at centre-back and two tacklers in Matic and David Luiz in midfield to try to nullify the threat of David Silva and Toure, you have four tall, strong players. It is difficult to get around the back.
"A lot depends on Silva but the mentality of City's group will be strong. It is another opportunity for them. They will feel Chelsea maybe lowered their pride. Maybe there is some feeling between the managers but I don't think that comes into it.
"I thought City were favourites in the game Chelsea won. Chelsea were superior but with City having home advantage again, I would personally be surprised if City fail for a second time. If they do it is quite a statement for the Premier League run-in as well.
"I think knowing Jose and his brilliant quirkiness, as well as cleverness, it wouldn't surprise me if he did something slightly different, although of course he could do the same and say to City 'come on, you didn't beat us last time. Try again'."
Pleat believes Pellegrini's decision to play two strikers against Chelsea, questioned by some, is not a factor.
He said: "This is a very simplistic way of looking at things. Just because someone dominated midfield in one game it is too easy to say it is down to that. On another occasion people may ask why a manager didn't use two strikers.
"If you have got two strikers who have worked massively well this season, they work with each other. When they concede possession one just drops a little bit deeper and links with the midfield and vice-versa. Rarely do two strikers stay side-by-side up front. One always has to come a little bit deeper and one has to look to stretch the opposition.
"Pellegrini is a deep thinker. He knows what he's doing and he has some very good players there."
The Chilean will require that deep analysis to outflank Mourinho - and given what appears to be a frosty relationship between the pair, a rare victory over "The Special One" will be even sweeter if he can plot a route into the FA Cup quarter-finals.