Ann Budge revealed as Foundation of Hearts' cash backer

By Brian McLauchlin
BBC Scotland
Last updated on .From the section Hearts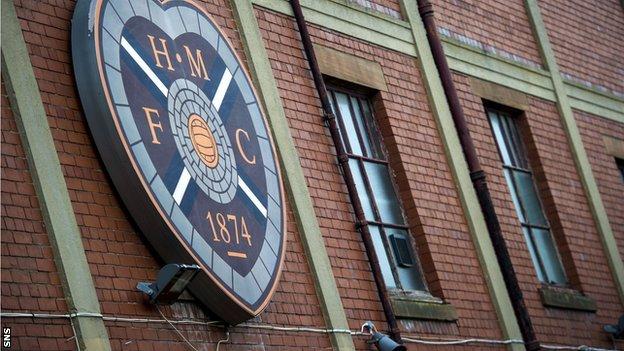 Fans' group Foundation of Hearts is being backed in its proposed takeover of the Scottish Premiership club by Edinburgh businesswoman Ann Budge, BBC Scotland can reveal.
Budge, 66, is the sole director of BIDCO 1874, the company that has struck a £2.5m deal with administrator BDO to enable the club to exit administration.
Hearts hope to be able to move out of administration around April.
Budge was founder partner in the IT company Newell & Budge.
It was sold to French company Sopra in 2005 for a reported profit of about £40m.
BDO agreed a deal with BIDCO 1874 for the purchase of the shares from the club's majority shareholder UBIG, the bankrupt Lithuanian institution which holds a 78.97% stake.
That deal still has to be ratified at a UBIG creditors' meeting, scheduled for late March.
In a statement issued on Thursday evening Foundation of Hearts says Budge will become executive chair of the club "on a no-fee basis".
Its intention, it says, is for BIDCO to "sign a legally binding agreement with the Foundation on behalf of the fans, to transfer majority ownership of the club on satisfaction of their contracted commitments, at the earliest opportunity, but certainly within a period not to exceed five years".
BIDCO says it will run the club for at least three years. It does not intend to seek repayment of the £2.5m for at least two years to allow money raised by the fans to be used as working capital.
The Foundation of Hearts estimates that the fans will have to raise £6m over the next five years "to achieve the objectives of saving the club over the long term and moving into supporter ownership".
Budge has already met key members of staff at Tynecastle but not yet the players.