Sam Hammam defends Cardiff City board over Malky Mackay criticism
Last updated on .From the section Football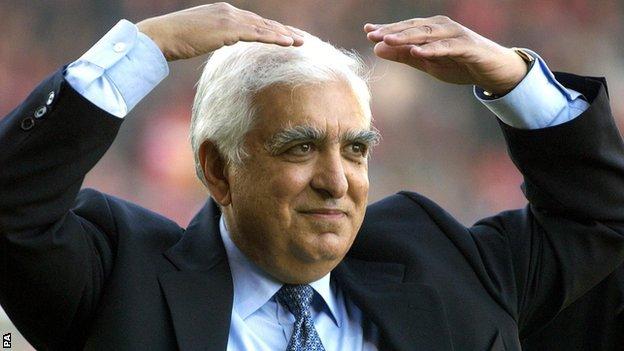 Former Cardiff City owner Sam Hammam says Malky Mackay must shoulder most of the blame for the loss the club has made in the transfer market.
The League Managers' Association (LMA) defended Mackay, saying all transfers went through Lim.
Bluebirds president Hammam said: "Malky Mackay is not taking responsibility for some of the things that have happened."
He said some of the Scot's summer signings had been "very poor indeed".
"Deep down inside himself he knows that," said Hammam.
Three of those signings started for Cardiff in their 0-0 draw against Aston Villa on Tuesday, but the other four have either left the club or been loaned out.
"It's not just through the buying, it's the wages he paid," said Hammam.
"If it's true that [Andreas] Cornelius was earning £45,000 a week then that is also a question."
Andreas Cornelius's signing was among the reasons behind Cardiff owner Vincent Tan sacking Iain Moody as head of recruitment in October, and Mackay as manager two months later.
The sale of the 20-year-old Danish striker back to FC Copenhagen in January cost the club £8.5m according to Lim's statement.
He made 11 appearances for Cardiff, failing to score, and Lim said "key shareholders" blamed the loss on "imprudent and careless management" during Mackay's tenure.
In response to Lim, LMA chief executive Richard Bevan said Mackay was "obliged" to report to Lim in all matters "pertaining to the transfer of players".
He said all clubs, especially at an elite level, have systems in place for "corporate governance" and a manager "does not go out and 'sign' players".
But Hammam defended Lim and Cardiff's controversial owner Tan.
"What do you want someone like Mr Lim or Mr Tan to do?" Hammam asked. "These are not people who grew up in football and who know football inside out.
"They have hired a manager and paid him well to do the job and they took his advice.
"Managers take credit when they do well with players and they should take the blame when they don't.
"The CEO is not a football man. He doesn't know whether certain amounts should be paid in wages or paid to buy players. This is why they hire a manager."
The BBC has asked Mackay for a response.