Man City look to Barcelona for lessons in success
By Andy West
Spanish football writer
Last updated on .From the section European Football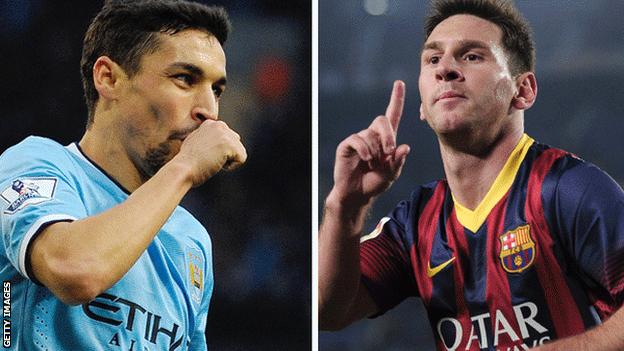 A decade ago, Ferran Soriano and Txiki Begiristain were spearheading Barcelona's development into arguably the greatest football team the world has ever seen.
Under the presidency of Joan Laporta, Soriano was a senior vice-president while Begiristain was serving his former playing club as director of football, overseeing the implementation of a strategy which yielded three Champions League trophies in the space of five years (in 2006, 2009 and 2011).
Now, though, the duo are plotting Barcelona's downfall, with Soriano having been appointed Manchester City's chief executive in September 2012 and promptly recruiting his old colleague Begiristain as director of football.
As the two teams prepare to meet in the Champions League on Tuesday, Albert Masnou, deputy editor of Barcelona-based daily newspaper Sport, believes the former Nou Camp duo are attempting to recreate history - albeit in a modified version - at the Etihad Stadium.
"Soriano and Txiki are constructing something similar to what they had in Barcelona in 2003," Masnou told BBC Sport.
"It was the start of something wonderful and I think they are now at this stage with City. One club is never the same as another and it is a process, not a question of miracles, but they are hitting the right notes."
But what are those notes? Essentially, under the guidance of Soriano and Begiristain, City are aiming to implement something that Barcelona have been following for years: a genuinely holistic strategy whereby every aspect of the club follows a consistent philosophy.
From training ground facilities to academy coaching, from player recruitment to the first team's playing style, the intention is for everything the club does to fit together and create a coherent whole.
More specifically, the starting point for such a unified strategy can be found in one area which will play a fundamental role in determining City's ongoing success: youth development.
When Abu Dhabi-based billionaire Sheikh Mansour took over City in 2008 it was immediately plain to him that, in modern European football, the only possible way to break into the elite was to invest quickly and heavily in both the playing staff and the infrastructure of the club.
However, Mansour never intended to continually fork out millions upon millions in search of ongoing success and, from the very beginning, City's long-term strategy has been to sustain their position at European football's top table by focusing heavily on developing their own talent.
A commitment to rearing homegrown players is hardly unique - every club in England would profess the same ambition.
How to actually do it successfully, however, is a much more difficult matter, and ultimately Soriano and Begiristain's greatest contribution at City could well be their ability to provide leadership in this area.
After all, they have come from the undoubted global leaders in producing a constant flow of technically gifted world-class internationals, with Lionel Messi, Xavi, Andres Iniesta, Cesc Fabregas, Sergio Busquets, Gerard Pique, Victor Valdes and many more all progressing through Barca's famed La Masia training facility.
Rayo Vallecano captain Roberto Trashorras, who spent his childhood with Barca before leaving to become one of many players to pursue a successful career elsewhere, confirms the Catalan club take a rigorously consistent approach to developing young players.
"I was with Barcelona for eight years, and what the first team does is the same as what the junior teams do," he said.
"The dynamics between the players are the same, the style of play is the same, and the movement of your team-mates is the same, so as you go through the age groups it's much easier.
"Above everything, it's about learning your position, having a very clear understanding of the concepts of the game and how to control your passes and possession of the ball. From a young age that's what you learn."
It is this kind of approach that City are attempting to follow, and the key element of their youth strategy is a single-minded focus on developing technical skills at a young age.
More "grown-up" ambitions such as playing and winning competitive games are not given any importance, with almost exclusive prominence initially granted to the acquisition and repetition of technique, which, the theory goes, should subsequently enable players to win games when they grow older and the importance of natural physical advantages is eroded.
Mental and emotional qualities are also extremely important, with City intent on producing independent thinkers rather than robotic, heavily taught players who are good at obeying the orders of their coaches but unable to make decisions for themselves in the hurly-burly of a game.
City academy coaches often cite David Silva as the prototype for the kind of player they want to develop: technically excellent, tactically adaptable, creative, intelligent and emotionally mature. Never mind the size; feel the quality.
Although Silva was not developed by Barca (his first club was Valencia), he might as well have been because he shares those virtues in common with players such as Messi, Iniesta and Xavi, who serve as embodiments of the qualities that have delivered Barca's success in the past few years.
Realistically, though, youth development is a long process and it will be many years before City can expect to start to populate their first team with local lads.
This is only logical - eight-year-old boys who enter the academy now will not be old enough to play for the first team for another 10 years.
And there is a highly relevant precedent in Barcelona, where Johan Cruyff was initially responsible for instigating the club's youth system during his managerial stint at the Nou Camp in the early 1990s, with fully formed players only emerging with regularity a decade later.
Therefore, to plug the short-term gap before English players can start to come through, City's youth development strategy has adopted a more international flavour, with youngsters from overseas such as Marcos Lopes (Portugal), Karim Rekik (Netherlands) and Luca Scapuzzi (Italy) among those to have been signed since 2011.
Again, this approach mirrors Barca's well-worn policy of recruiting youth talent from abroad, most famously illustrated by Messi but also including more recent hopefuls such as Jean Marie Dongou (Cameroon), Edgar Ie (Portugal) and Lee Seung Woo (South Korea).
And although the policy was determined before their arrival, Soriano and especially Begiristain have crucial roles to play in nurturing an increasingly international approach to youth recruitment at City.
Another piece in the jigsaw is the ongoing construction of City's new training ground, which will offer the campus style approach employed by Barcelona, whereby the same facilities are shared by youth players of all ages and first team superstars alike.
City's bosses visited many facilities from different sports all over the world before drawing up their plans, but Barca's Ciutat Esportiva was undoubtedly one of the important influences.
Despite all these similarities, however, it would be an over-simplification to suggest that City are simply trying to copy Barcelona's recent success, because the clubs are in many ways very different.
For starters, their respective ownership models ensure they are chalk and cheese in structural terms: City are ultimately led by a single individual, Sheikh Mansour, while Barcelona are democratically owned by their 150,000-plus members.
There are also divergences in commercial and marketing strategies, with City following their own unique path by investing in professional football clubs in lucrative overseas markets - New York City FC in the United States and Melbourne Heart in Australia - while Barca are focusing on growing their popularity in rapidly expanding Asian territories such as China and Indonesia.
And on the playing side, another contrast is evident in the English club's use of powerhouse centre-forwards Alvaro Negredo and Edin Dzeko, which could hardly be more different to the strikerless "false nine" formation starring Messi at the Nou Camp.
But there is, nevertheless, undeniably a clear desire on City's part to emulate Barcelona's overall holistic approach, and Soriano and Begiristain - supported by coaches and administrators such as Manuel Pellegrini, Brian Marwood and Patrick Vieira - are regarded as the ideal senior management team to lead that process.
"Txiki is a very smart man who knows football and has the capability and experience to manage projects of this magnitude, and Pellegrini is a technician who has always been characterised by building teams which play good football," noted journalist Masnou, adding that City's rapid development has not gone unnoticed in Spain.
"Barca fans know a lot about City because the Premier League is followed closely here, and of course there's also the presence of Txiki, Soriano, Pellegrini and the Spanish players."
Masnou also believes City are already perceived in his country as a genuine continental powerhouse, saying: "Europe now has a new group of clubs who have joined the elite, like City and Paris St-Germain. City have a very strong squad, they play good football and score lots of goals. Now they also have the test of winning titles."
Beating Barcelona would certainly be another major step towards achieving their Barcelona-inspired quest for world domination.