Roberto Martinez: FA Cup should be treasured by top-flight clubs
Last updated on .From the section Everton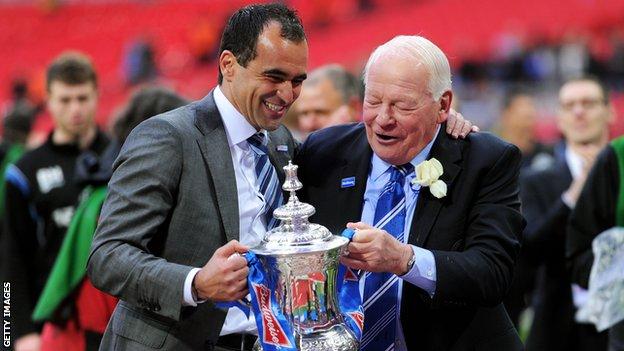 Everton manager Roberto Martinez says the FA Cup should be treasured by clubs and not treated like a hindrance.
However, the Spaniard says he does not fear that success in the Cup this season will hinder Everton's challenge for a top-four finish.
"Success in the Cup can really help in the league and the other way round," said Martinez.
"You just need to find enough strength in the squad to face both competitions if you have a pile up of fixtures."
Earlier in the season Aston Villa manager Paul Lambert said top-flight managers could do without the Cup.
However, as Everton prepare to face Swansea in the competition on Sunday, Martinez is eager for his side to remain in the competition for as long as possible,
"You want to have success," he said. "As a team, that is what you work for over eight months, to put yourself in a position where you are still involved in competitions in mid-February.
"Success means you get as far in a cup tournament and finish with the maximum number of points and achieving those points in the best possible way.
"As you are progressing in the previous rounds, it builds an important momentum and expands the squad. The youngsters get an opportunity to show what they can do. It makes you stronger."
Unlike last season, the FA Cup final will be the final game of the domestic season for top-flight clubs and Martinez admits that was one thing that did hinder his former side's relegation battle.
"For any club going into the final week of the season, whatever you aim is in the league you should not get punished by playing in the final," he said.
"The final should be a moment to treasure and enjoy and, clearly, I really think that is the right thing for all clubs."