World Cup 2014: Fifa's Jerome Valcke warns host venues
Last updated on .From the section 2014 Fifa World Cup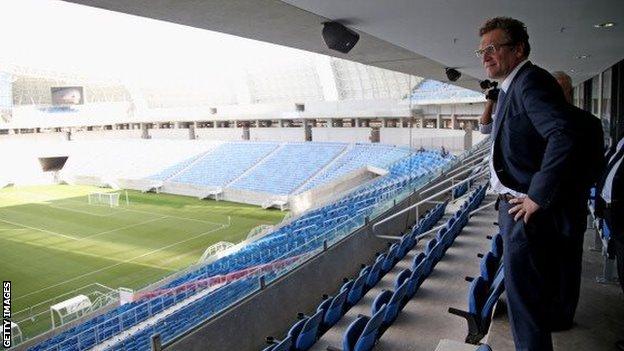 Fifa general secretary Jerome Valcke has issued a warning to host cities of the 2014 Brazil World Cup ahead of a key visit to the nation.
Valcke will arrive in Brazil on Sunday in order to assess the readiness of venues for this summer's tournament.
His trip will include the city of Curitiba, where work on the Arena da Baixada is well behind schedule.
"None of the 12 cities can afford to sit back and relax," wrote Valcke in his column on the Fifa website.
"There's still plenty of fine-tuning to be done," he added.
The World Cup begins in Brazil on 12 June, but five of the 12 host stadiums are still under construction, including the Sao Paulo venue due to stage the opening match.
Fifa is known to be exploring alternatives to Curitiba should its stadium fail to be completed on time, and Valcke said a final decision on the city's involvement will be made on Tuesday.
The likeliest alternative would see the four matches scheduled for the Arena da Baixada shared around Brazil's 11 other host venues.
"We are closely monitoring the works in Curitiba in order to assess the situation there," Valcke said.
"We will communicate the final decision to the teams, as promised, on 18 February when the Team Workshop starts in Florianopolis."
England begin their 2014 World Cup campaign in the northern city of Manaus, where they play Italy.
The Group A fixture will take place on 14 June at the Arena da Amazonia, where the construction has also been fraught with disaster and delay.
Three workers have died in the building of the stadium, which is now due to be completed at the end of February after missing previous deadlines.