Cardiff City: Solskjaer avoids being drawn into Malky Mackay row
Last updated on .From the section Football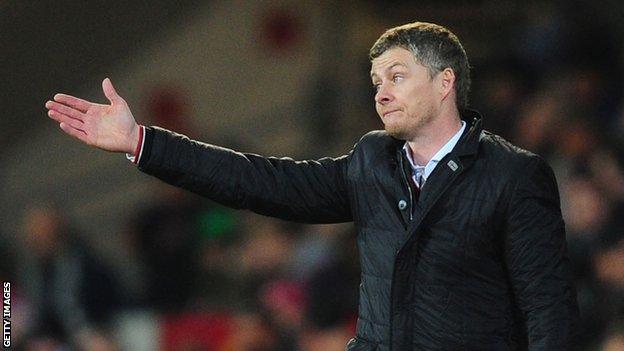 Cardiff manager Ole Gunnar Solskjaer does not want to get involved in the row between the club and former boss Malky Mackay.
The Scotsman was sacked in December amid allegations relating to the Bluebirds' summer recruitment.
Cardiff raised the issue again on Thursday, blaming previous management for losses incurred on transfers, but Solskjaer is keeping his distance.
"What happened in the past is not for me," he said.
Bluebirds chief executive Simon Lim again criticised Mackay in a statement, particularly the signing of striker Andreas Cornelius, which Lim claimed cost the club in excess of £8.5m.
Cornelius returned to FC Copenhagen in January and scored a hat-trick on his second debut for the club.
The League Managers' Association chief executive Richard Bevan responded by claiming Mackay had to report to Lim "in respect of all matters pertaining to the transfer of players."
Solskjaer, who took over from Mackay in January, is avoiding being drawn-in to the row.
However, the Norwegian claims the amount of money spent by the club in the summer of 2013, when Cardiff broke their transfer record three times, had left him with a smaller budget to work with.
"I have the resources that were given to me, it was different in the summer, they had more money as they had just come up," he said.
"Now it is not like that, it was not right when people said I had £25m to spend, but you have to look at the long-term, you can't just panic and only think of the short term, I only did what I could with the resources I was given."
The former Manchester United striker signed seven players during the January transfer window, but his team is second from bottom in the Premier League after their 0-0 home draw with Aston Villa.
On the pitch, Cardiff face holders Wigan in the fifth round of the FA Cup on Saturday.
The Latics were relegated from the Premier League last season after winning the Cup, and with Cardiff currently in the relegation zone, Solskjaer hopes the Welsh club do not follow Wigan's lead.
"They proved last season what the FA Cup was all about, a chance for smaller clubs to win trophies," he said.
"I would like to go one better than they did and win the cup and stay up, but in any way, shape or form, if you play in a cup game you want to win it.
"It's a chance for some players to come in and show they should be playing in the league and I do not go into any game hoping we lose."