Nigel Clough set to resume rivalry with Billy Davies in FA Cup
By Alistair Magowan
BBC Sport
Last updated on .From the section Football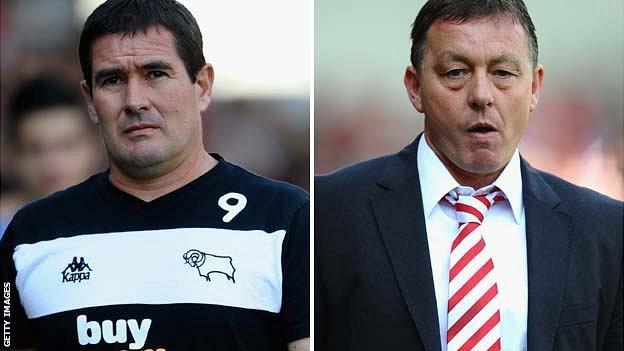 When asked whether he gets on with Nottingham Forest boss Billy Davies, Sheffield United manager Nigel Clough gives a curt reply. "Not especially," he says.
The pair are set to square up in the FA Cup fifth round on Sunday at Bramall Lane, but the answer alludes to a time when former Forest player Clough was the Derby manager and the pair locked horns on several occasions in the East Midlands' most intense derby.
"We will probably shake hands and that's about it," Clough tells BBC Radio Sheffield. "We've had a few run-ins over the years."
That much is true. Having taken charge of their respective Championship clubs in January 2009, a year later they were at loggerheads.
Tempers had already been frayed by a stormy end to a Forest win at the City Ground earlier in the 2009-10 season but after Derby's 1-0 win at Pride Park, which ended Forest's 19-game unbeaten run, Davies accused his counterpart of a "cowardly" assault during an injury-time free-for-all.
As players, coaches and club officials all flew in, Clough was alleged to have kneed Davies in the back, although the Derby boss denied it.
Earlier this season, Clough was sacked by Derby after Forest beat the Rams by the same scoreline.
The Blades manager also had a nine-year playing career at Forest under the management of his late father Brian, so when Clough says this tie "catches the imagination" you can see why.
"When you are Derby-Forest, it's always going to be interesting," the 47-year-old says. "We've had some ding-dongs over the years, we have had melees, and we have been up in front of the Football Association. There is a lot of passion and up until September [when Clough was sacked by Derby] we had a good run against them."
Clough's relationship with Davies - himself a former Derby boss who, in his second spell at Forest, has led them to fifth in the Championship - does make it tempting to draw parallels with his father Brian's fraught rivalry during the 1970s with Leeds manager Don Revie.
That battle of minds was played out in the top flight rather than at Championship level, and was a lot more public, too.
But it is also interesting to ponder whether Clough's animosity towards Davies stems from his own desire to go back to his former club and follow in his father's footsteps by managing both Derby and Nottingham Forest.
Clough is one of Forest's all-time leading goalscorers and having taken charge of Burton Albion, Derby County and now Sheffield United, seems set on remaining at his East Midlands base for the foreseeable future.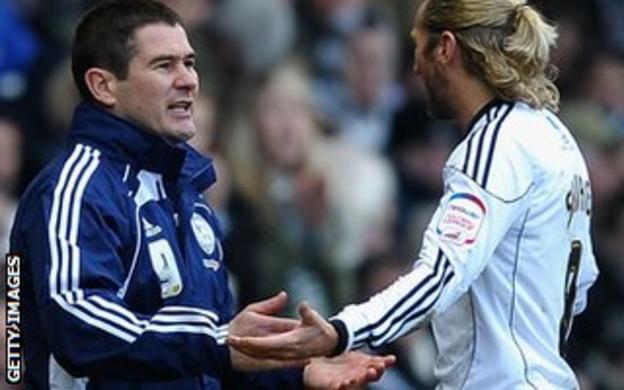 Robbie Savage, who played under Clough junior at Derby, said he never got the impression he had his eyes on the Forest job, adding: "I don't think anybody would be able to follow his father because he won so much there."
But he also told BBC Sport: "Nigel has so much history with the club and was one of the best ever players - so he would be a great fit in the future."
Despite the success of both father and son at Forest, neither ever got their hands on the FA Cup. They twice shared League Cup success, in 1989 and 1990, and Brian famously won two European Cups and a league title at Forest, in the days before Nigel started playing.
The closest they came to FA Cup success was the 1991 final, when Des Walker's stoppage-time own goal gifted victory to Tottenham. Nigel has described that day as one of the biggest disappointments of his life.
While it may be a stretch to imagine League One Sheffield United winning the FA Cup this season, Clough has already made his mark in this year's competition. The Blades, who are the lowest-ranked team remaining, have already seen off Premier League sides Aston Villa and Fulham, and a return to Wembley in the semi-finals is only two more wins away.
But as much as Clough would like to continue the cup run, he is also conscious of his side's position in the third tier's relegation zone.
The Blades have reached the League One play-offs twice since they were relegated from the Championship in 2011, but Clough took over from the inexperienced David Weir in October following a nightmare start to the season that left them bottom of the table.
Former England international Clough took his new side on an eight-game unbeaten run, which lifted them to 17th, but since the Cup win over Aston Villa in January, their league form has been inconsistent.
"The FA Cup means a lot, but not as much as staying up, honestly," says Clough. "If we can do it in tandem then great. We will be completely focused, and staying in the league is our priority but we are going to enjoy the Cup. "
After nearly five years of gloom since Sheffield United were beaten 1-0 by Burnley in the 2009 Championship play-off final, this season's run has certainly given their fans something to cheer about.
In addition to boosting United's bank balance, the added television exposure has also demonstrated that Clough - known for his mild nature as a player - has developed an increasingly passionate demeanour as a manager.
"Nigel has got that fire, no doubt about it," said Savage. "When I was captain at Derby I once threw my boots off when I was substituted against Forest and he let me have it in front of everybody."
Even Clough's former Forest team-mate Roy Keane, infamous for pursuing referee Andy D'Urso halfway around Old Trafford after he awarded a penalty against Manchester United, questioned what Clough senior would think of his son ranting on the touchline during the FA Cup replay win over Fulham. There was a knowing tone to Keane's delivery, it should be said.
Asked whether he is a different animal now he is a manager, Clough replies: "You have to be. As a player you are restricted to what you can do, you are concentrating on the ball and the game.
"On the sidelines you are like supporters in some ways - you get caught up in the emotion of it. It would be nice to try to stay calmer.
"We are trying but if Roy is telling me to stay calm then we must be animated!"
Based on recent evidence, Sunday may not offer any immediate improvement.